NAAEE 2023 Conference and Research Symposium: Call for Presentations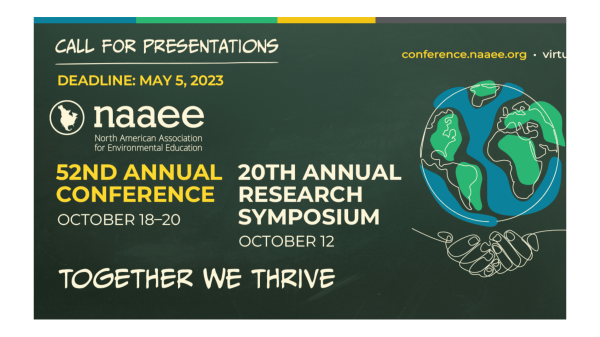 NAAEE 2023 Conference and Research Symposium now accepting proposals! 
We seek compelling proposals for our 52nd Annual Conference and 20th Annual Research Symposium, to be held virtually in October.
52nd Annual Conference, October 18–20, 2023
20th Annual Research Symposium, October 12, 2023
Our 2023 conference will focus on the importance of collaboration, creativity, and crossing boundaries to address the environmental and social issues we face. None of us can tackle these issues alone; we need stronger collaborations, more diverse partnerships, and insights from people with varying backgrounds, perspectives, and ideas. We also can't address the systemic injustices that have marginalized so many unless we understand the shared roots of social and ecological crises and collectively work with intention toward justice. Together, we can build a sustainable future where everyone thrives.
We'll dig into vital topics in our field such as advancing civic engagement and sustainable communities, conservation and environmental education, building a green workforce, and centering equity in our work. We'll explore cultivating partnerships to strengthen networks and build our capacity to transform communities so they are more sustainable and just.
We encourage ALL who have EE experiences, knowledge, stories, and wisdom to submit a proposal for #NAAEE2023 by Friday, May 5. Please share with colleagues and students TODAY!
To learn more and submit a proposal, please visit: