2023 NAAEE Conference and Research Symposium: Together We Thrive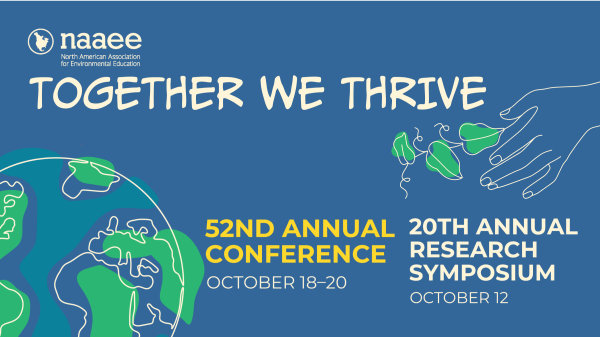 2023 NAAEE Conference and Research Symposium: Together We Thrive
Registration is now open!

52nd Annual Conference, October 18–20, 2023

20th Annual Research Symposium October 12, 2023
Join us for NAAEE's 2023 Annual Conference and Research Symposium—being held virtually to enable wide participation. Together, we will focus on the importance of collaboration, creativity, and crossing boundaries to address the environmental and social issues we face both locally and globally. None of us can tackle these issues alone. As soccer great Pelé said, "No individual can win a game by himself." We need stronger collaborations, more diverse partnerships, and insights from people with varying backgrounds, perspectives, and ideas. And only when we understand the shared roots of social and ecological crises and collectively work with intention toward justice can we address the systemic injustices that have marginalized so many.
Our Annual Conference and Research Symposium offer inspiring and thoughtful keynotes, a rich variety of workshops, presentations, symposium panels, discussions, bright spots, and posters, along with great opportunities for networking, growth, and change. We'll dig into vital topics in our field, such as climate change education and climate justice, the benefits of connecting to nature, building a green workforce, protecting biodiversity, and centering equity in our work.
NAAEE is committed to making this online experience accessible to all, and we do not want registration fees to be a barrier to participation. We offer discounted rates for members, students, and retirees, along with a deeply reduced rate available to anyone whose circumstances make the standard fees a challenge. If the reduced rate poses a hardship, you may apply for a scholarship for further assistance.
Please share the registration brochure with your networks.