Join Us on Twitter for National Environmental Education Week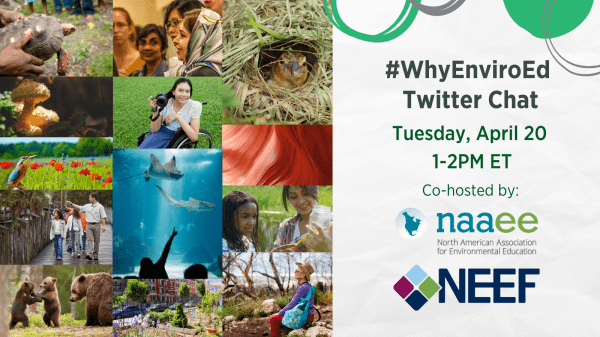 National Environmental Education Week is approaching next week, April 19–23! Please join us on Twitter for a live chat and hashtag campaign.
On Tuesday, April 20th from 1-2pm ET we will be hosting a Twitter Chat with The National Environmental Education Foundation (NEEF). Detailed instructions for the Twitter chat can be found here. All are invited to respond to our questions and join us in reflecting on the field of environmental education (EE) and reimagining a more collaborative and interdisciplinary EE model.
Throughout next week, we will be using the hashtag #ForEnviroEd on Twitter to create a space for opportunity sharing. We would love for you to use #ForEnviroEd to share opportunities that your organization is offering, and encourage you to share the hashtag with your community members so they can explore all the great opportunities available.