Call for Nominations for EE 30 Under 30 Class of 2023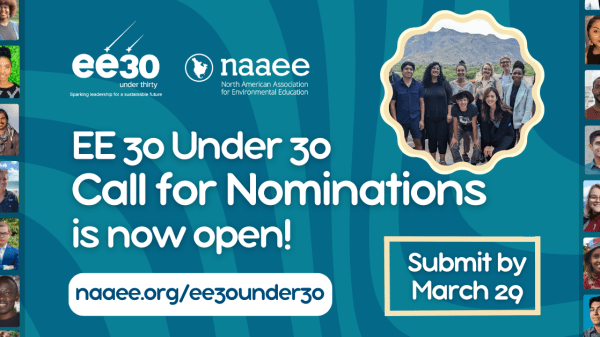 Deadline for Class of 2023 nominations: March 29 at 11:59 PM U.S. Eastern Time
Young people around the world are creating lasting change for both people and the planet. EE 30 Under 30 shines the spotlight on these changemakers who demonstrate passion, commitment, and leadership using environmental education. The EE 30 Under 30 Class of 2023 will receive global recognition, join a growing community of inspiring EE leaders, and access ongoing professional development and networking opportunities.
Eligibility:
Nominees must be 30 years old or younger (as of December 31, 2023). If you are over 30, you can still nominate someone else!
Nominees can come from anywhere in the world.
Nominations must be in English, but your nomination will not be judged based on your English language ability.
Nominees must be using EE to address sustainability issues, build a more inclusive environmental movement, and/or create healthier and more civically-engaged communities. Read more about key elements of EE here.
Nominees must demonstrate some leadership in EE, but you do not need to be in a leadership position to demonstrate leadership!
---
About EE 30 Under 30: Since 2016, NAAEE's EE 30 Under 30 program has recognized 210 individuals from 42 countries who are making a difference through environmental education. To address today's complex challenges, we need a diversity of perspectives, skills, and experiences. EE 30 Under 30 celebrates the unique and passionate leadership of talented young leaders around the world and gives them a professional boost to increase their impact. Each year our awardees join a growing alumni network of inspiring environmental education leaders and receive ongoing opportunities to network, grow professionally, and promote their work.
For more information about the program and to read alumni biographies, visit https://naaee.org/programs/ee-30-under-30. Please direct any questions to ee30u30@naaee.org.