eeINSPIRE WEBINAR: The Stories We Tell: Reflective Writing to Examine How Nature, Diversity, and Place Influence Our Teaching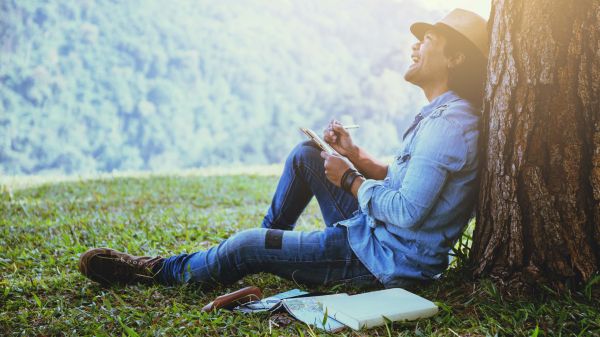 Thursday, December 10, 3:00-4:00 PM ET - RECORDED
Speaker: Naamal De Silva, founder of Mayla, which supports the people who protect nature.
In the first in a series of two workshops that will focus on using reflective writing as a means of promoting diversity and inclusion, we use the NAAEE 2020 conference conversation between Audrey Peterman, Drew Lanham, and Aimee Nezhukumatathil as context—each of these authors and educators uses autobiographical writing to illuminate our connection with the natural world. Each also writes about specific challenges they faced because of their race and background.
In this eeINSPIRE webinar, we use brief excerpts from the above books as inspiration and take a little time to discuss and write about our personal relationships with nature and specifically look back at our own childhoods. We will then come back together to consider how reflective writing can strengthen our personal lives and professional work. How can reflecting on our personal experiences help us understand how we approach teaching and learning—especially when working with people who have very different backgrounds from our own? We end with specific options to integrate reflective writing into our lives.
If you have any questions for the speaker or comments regarding this webinar, please sign into your eePRO account and add below this post. Thank you!
Please have a notebook or journal handy for the webinar.
About Naamal De Silva
Naamal works in the areas of inclusion, conservation, and education to solve problems related to vision, strategy, priorities, and changes in direction. She is the founder Mayla, which supports the people who protect nature. Through consulting, events, mentoring, and storytelling, we create threads of connection between people, perspectives, and places.
eeINSPIRE: Sparking Innovation in Environmental Education

We are pleased to continue eeINSPIRE, NAAEE's webinar series presented in partnership with the US Forest Service. This series is designed to bring new ideas and thinking to USFS conservation educators, but is open to all who want to sign up! 
Upcoming eeINSPIRE Webinars
Future topics will include: increasing civic engagement through education and service learning, becoming a natural and effective storyteller, citizen science in education, building a diverse and inclusive field, and more. 
We look forward to seeing you online, and stay tuned for updates on upcoming webinars in the series!