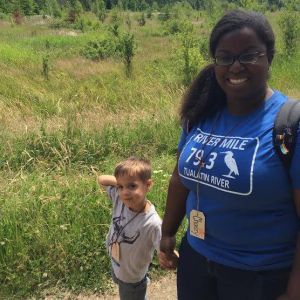 Charissa Jones
Outreach and Inclusion Coordinator
OSU Extension Service -- Outdoor School
Corvallis, Oregon,
Interests
Aligned with NGSS, Evaluation and Assessment, Biodiversity, Citizen Science, Climate Change, Conservation, Culture and Art, Justice, Equity, Diversity, and Inclusion, Ecosystems, Environmental Literacy, Forestry, Natural Resources, Nonformal Education, Environmental Quality, E-STEM, Water
Social Links
Charissa V. Jones (she/her/hers) is the Outreach and Inclusion Coordinator for the Oregon State University (OSU) Extension Service Outdoor School Program and a third-year doctoral student at Oregon State University in the College of Education's STEM Education program. She is a cultural and community connector with over 15 years of experience in outdoor and environmental education. Originally from Suriname, South America, she is interested in (re)connecting folks to their environments by exploring the intersections of EDIJA (equity, diversity, inclusion, justice, and accessibility), and environmental and outdoor education with a particular interest in exploring how culture filters community sense-making around "environment/outdoor/nature-based" and learning.
Read More

Charissa prides herself on her commitment to being accountable to and for the communities she works with. This attention to her identities and how they intersect with her work provides her with the ability to give attention and care to implementation processes. She is active in the outdoor and environmental education community at both the state and national levels. Charissa earned an M.Sc. in Environmental Studies from Antioch University New England (AUNE) and a B.A. in Environmental Studies with a focus on Environmental Education from New College of Florida (NCF). Vices include bookstores, sloths, sea turtles, cute mugs, avocadoes, and being loud.