Hands-On Community Learning in a Distanced World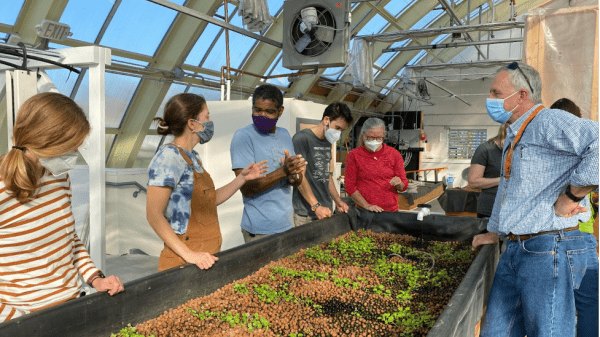 Welcome to the first eeBLUE: Harvest Stories. Each month, NAAEE will share blogs from the Aquaculture Literacy grantees as they implement innovative educational experiences that explore aquaculture topics in local communities. We can't wait for you to "sea" what they are up to! 
This post is written by Kate Holcomb, Co-Founder/Director, Canopy Farms L3C, and Theo Willis, Owner at Kaskalos Sea Vegetables.
Project partners: Canopy Farms L3C, Hurricane Island Center for Science and Leadership, Maine Sea Grant, Kaskalos Sea Vegetables
On October 3, Matt Moretti of Bang's Island Mussels looked over a crowd of about 25 in ZaoZe Cafe & Market in Brunswick, Maine. They were there for a Science Cafe where Matt would introduce his line-grown mussel business to the audience. Little did they know the space had been changed, again, just days before. 
Like the entire restaurant industry, ZaoZe had been hit hard by the pandemic. It went through a series of changes from an Asian bakery to a full-service outdoor dining restaurant and a counter-service indoor eatery. By October, it was lined with retail shelves and housed a tempting pastry case, with hot food to go and Asian groceries and produce for pickup, exemplifying the plasticity required of businesses trying to survive the pandemic. The Science Cafe events also demonstrated malleability. 
Through the NOAA-NAAEE Collaborative Aquaculture Literacy mini-grants program, NAAEE supports partnerships sharing the mutual aquaculture literacy goals of the National Oceanic and Atmospheric Administration's (NOAA) Office of Education, National Marine Fisheries Service (NMFS), and National Sea Grant Office. These mini-grants provide informal learning institutions (e.g., aquariums), aquaculture industry (e.g., shellfish, finfish, seaweed farmers), and NOAA partners with support for the co-development of innovative educational experiences that explore aquaculture topics and support the engagement and advancement of public aquaculture literacy.
ZaoZe is housed on the first floor of a one-of-a-kind facility, integrated with Canopy Farms (CF) aquaponics. CF hosts basement aquaculture systems and a rooftop greenhouse and is a business with a mission: to grow high-quality, hyper-local food for its partner restaurants and the local community; to participate in educational activities and workforce development for the industry; to promote sustainable agriculture and aquaculture in Maine and beyond.
Kate Holcomb, director of CF, introduced the event and the space. Then Dr. Willis of the University of Southern Maine took over with an introduction to aquaculture. "What's the most valuable fishery in Maine?" he asked. "Lobster," the room responded. "Yes," he said, "nearly 100 million pounds worth $400 million. What's second?" Audience members offered up cod salmon. "No, the only finfish in the top 10 is menhaden, which is used for lobster bait," he replied, underscoring the vulnerability of relying on one species to support our fishing economy. Dr. Willis continued, making the point that fisheries have changed: Maine's storied cod fishery is now closed, and much of the seafood we eat comes from overseas. 
The crowd listened, distanced and wearing masks, as Matt recounted his life as an aquaculture business owner. He started with tales of being on the ocean with his father and how they wanted to start something sustainable and forward-looking. They began in 1999 as a family business and have grown to 18 employees, producing mussels and kelp in the clean waters of Casco Bay. Then the pandemic saw their orders evaporate overnight as restaurants closed and the world shut down. According to Matt, once the panic subsided, they took the opportunity to reassess the business, as so many businesses did in 2020 and 2021. They concluded that they wanted more for their employees: more security, more benefits, more opportunity. Counterintuitively during a time of uncertainty, this meant they had to expand to reach the scale that would let them accomplish this.
As the audience processed what they had heard, hors-d'oeuvres were served: Chinese-style mussels escabeche and Thai curry mussels prepared by ZaoZe's award-winning chef Cara Stadler. The group then reconvened for a Q&A. Audience members wanted to know how Matt harvested mussels, where he got his seed from, how mussel growing interacted with the environment, how far and wide his mussels were sold. They also asked about fisheries: what's wrong with them, and how will climate change affect aquaculture and fisheries? Where did green crabs come from, and why were harvesters trying to protect clams from them? As the event wrapped up, audience members continued the conversation with the hosts and each other and completed a survey reflecting on the events. 100% attested to their having a better understanding of aquaculture following the evening's discussion.
This event was just one of a series of educational events hosted by Canopy Farms through the eeBLUE Aquaculture Literacy mini-grants program. Each Science Cafe is followed up the next night by a cooking class, limited to 10 fully vaccinated people. Participants worked directly with Chef Cara to prepare the dishes served the previous evening. The participants then sit down for dinner and discussion, with Dr. Willis in attendance to offer the science perspective on aquaculture and fisheries when the dinner conversation swings that way.
With the support of the grant, CF has been able to target educators for these events. Teachers attend cooking classes for free, and Kate has invited schools to the facility to learn about urban farming, particularly aquaponics. The Brunswick High School science department toured early in the school year; visits like this from educators without students allow teachers to envision how Canopy Farms can meet their science standards requirements. Kate has since hosted middle and high school classes from multiple local schools. One teacher reflected: "The experience launched us into our exploration of aquaponics systems. We were able to apply what we learned about plant structure and identification when we visited the greenhouse. Also, we were able to study different types of aquaponics systems and learn what assessments, maintenance, and upkeep would be necessary to establish our systems. Over the following month, students applied what they learned by designing and constructing four aquaponics systems in our school." As education and community involvement have become increasingly virtual, these hands-on events have provided participants with an opportunity to connect with local businesses, industries, and each other in a safe and meaningful way.
The Science Cafes, cooking classes, and education tours will go through June 2022. To learn more, visit the Canopy Farms website at www.canopyfarms/org/aquaculture-literacy-series or contact Kate at kate@canopyfarms.org.