A New NAAEE Website Is on Its Way!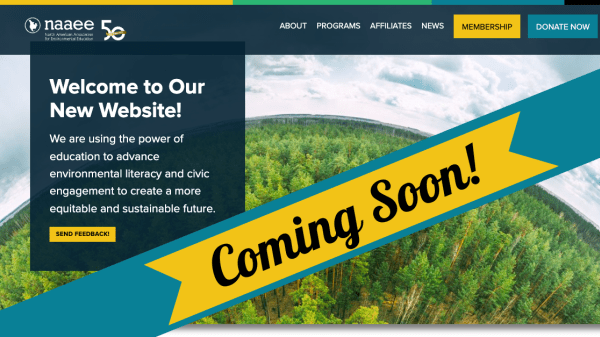 After much hard work and team dedication, we are delighted to reveal that a new NAAEE website is on its way! 
Our homepage URL will remain the same, but soon you'll find a renewed experience that reflects the vibrancy of this network and the environmental education community. This website offers an improved user experience, getting you to the information that is most important as you enjoy a fun new look. And new users will be able to effortlessly learn about NAAEE and its mission, programs, and goals, and hear about all of the ways they can get involved in our work and in the field of environmental education. We're also eager for this new website to impact the experience of our team at NAAEE, too, with improved tools and capabilities for sharing about our programs and collective impact. 
We understand the challenges these changes may present. We are ready to provide support during this transition, so it is as seamless as possible for staff and all of you. Stay tuned for a tutorial video where we walk you through a virtual tour of the new site and address the most pressing questions. 
Please note: On the morning of September 29, Eastern time, the website will go dark for a short period of time. Do not fret, we will be up and running as soon as possible after the transition, which should not take more than two hours. 
We hope you love our new site as much as we do, and we can't wait to reveal it on September 29!
For now, eePRO will remain the same, but look for announcements about a new and improved eePRO sometime later this fall!