Mark Your Calendars: Two Virtual Conferences, Webinars, and More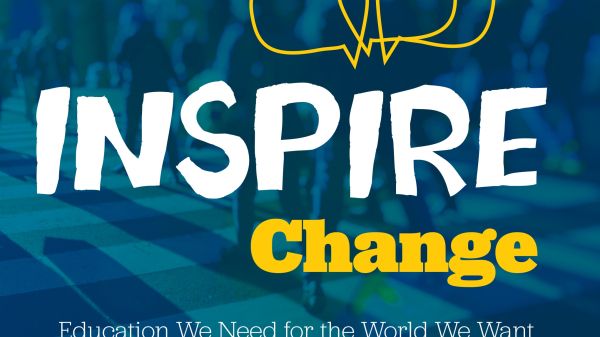 ​
Learning never exhausts the mind.
—Leonardo da Vinci
Mark Your Calendars: Two Virtual Conferences, Webinars, and More
Regina Romero, a wonderful organizational coach and psychologist, spoke with our team last week about strategies for building personal resilience during these difficult times. One suggestion was to write down three new things we're grateful for each day over the next few weeks. Another idea was to develop the practice of savoring experience by journaling each day about a new positive experience, however small. She also reminded us of the merits of exercise and meditation, and the power of random and conscious acts of kindness—to the giver and receiver. (Of course, there was a lot more context to all of this!)
With a daily deluge of difficult news and never-ending demands, I hope you're finding the time and space to practice some good self-care. During our virtual conference in October (see below), we will be including a session on building resilience with Dr. Romero. One thing we know about this pandemic is that it's pushing our thinking almost daily. I know at times it can be uncomfortable and even fear-inducing, but we are being challenged to consider so many new possibilities. For example, we're all thinking about the role of virtual learning in our field, how to provide equitable access to learning and nature, how to facilitate difficult conversations about race and the environment, and what our role is in helping to build more resilient communities and a nation that is more civically engaged. We're also thinking more about collaboration and cross-boundary work, as we collectively shape a new narrative about the future of education, race, and the environment.
To help spur new thinking, networking, and learning, we will continue to offer engaging online events—including the Natural Start Alliance Conference and the NAAEE Research Symposium and Annual Conference, all going virtual this year. We hope you can join us for each of these events, and we also invite you to take a short survey that will help us all learn more about how to deliver even more effective online learning.
LEARNING AHEAD: VIRTUAL CONFERENCES, CONVENINGS, AND A SURVEY
Register now for the Natural Start Alliance Nature-Based Early Learning Conference--Live July 29-31, and available all year. During this virtual experience, you'll have a chance to learn about how to plan, run, and advocate for nature-based early learning programs (including forest schools, outdoor preschools, and nature preschools) and K–3 outdoor learning, as well as discover new strategies and research in nature-based education, and so much more. And everyone is eligible for a scholarship this year with the pay-what-you-can option. Learn more and register at conference.naturalstart.org. Thanks to the entire Natural Start Alliance team and Advisory Board for all their hard work, creativity, and passion to make sure that all children, everywhere, have access to high-quality early nature experiences.
Hold the dates for NAAEE's virtual NAAEE Annual Conference and Research Symposium: In response to more than 800 people who filled out our survey about creating the best possible virtual symposium and conference, this year we will be spreading out events over the course of two weeks.
The Annual Research Symposium will start with an evening networking event on Thursday, October 8, followed by full days on Friday, October 9 and Saturday, October 10.
The opening session of the Annual Conference will feature an exciting keynote speaker on Tuesday afternoon (ET), October 13, and continue from Wednesday, October 14 through Friday, October 16.
Workshops, eePRO discussions, and other affinity groups will meet throughout the two-week period, with most scheduled Thursday, October 8 and Monday, October 12.
We've had a nearly bumper crop of inspiring proposals for the symposium and conference and we aim to send notifications by the end of next week to all submitters. We are working to create a wonderful conference line-up, complete with great keynotes and opportunities for networking, learning, and sharing.
Sign up for our Webinars: On July 28 (2:00 pm ET), Tammy Murphy, First Lady of New Jersey, and a panel of educators will discuss New Jersey's first-across-the-nation initiative to integrate climate change education throughout the curriculum. On August 6 and August 20, a two-part series will address how to facilitate controversial issues, with social studies superstar, Mary Ellen Daneels, Civics Instructional Specialist with the Illinois Civic Mission Coalition. Future webinars will feature Rena Payan (Youth Outdoors) talking about cultural relevancy; Marc Stern (Virginia Tech) and Bob Powell (Clemson) presenting the results of the evaluation survey that many of you filled out; and Louise Chawla (University of Colorado) and Martha Monroe (University of Florida) sharing the new Practitioner Guide to Assessing Connection to Nature. To find out more about our webinar series, click here.
Give us 15 minutes of candor now, avoid hours of misery later: Our good friend, Andy Goodman, is launching a survey with the assistance of the Center for Public Interest Communications at the University of Florida, to help make our online learning much better. As Andy says, "If you've ever been stuck in an online meeting and thought, 'There has to be a better way,' here's your chance to help design that better way." NAAEE is working with Andy to find out precisely what's working, what's not, and why with web-based convenings. We know that web-based gatherings will be a significant part of our work life going forward, so we hope you can help us collect data now to design a better future. Click here to start the survey and find out how to get a free copy of the report. In addition, Andy will be doing a future webinar with us to highlight the findings.
Please keep sending us your ideas and letting us know how we can help support you. It's in our DNA as educators to bring hope to our audiences and to make a positive difference in the world. So thank you again for all you're doing and please make sure you take care of yourself during these difficult times. And we look forward to seeing you at future virtual events until we can be together.
Judy Braus
Executive Director
I've learned that people will forget what you said, people will forget what you did, but people will never forget how you made them feel.
—Maya Angelou
​​