Nominations for 2018's EE 30 Under 30 are now OPEN!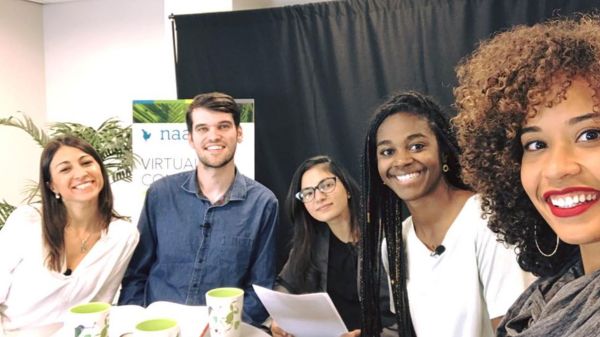 "Geez, I feel like I haven't accomplished anything!" That's the sentiment our reviewers often share after reading the EE 30 Under 30 applications. While the reviewers are only half-serious, it's true that the past winners are incredibly inspiring in all they've done to improve their communities using environmental education. They have accomplished so much in their 30 or fewer years, and NAAEE is proud to recognize their phenomenal leadership.
Through the EE 30 Under 30 program, NAAEE has highlighted young people working on conservation issues, educating in and out of classrooms, creating new products, and establishing organizations, all focused on bettering their communities and the planet as a whole. If you want to feel inspired, check out the incredible stories of the 2016 and 2017 winners on the EE 30 Under 30 website.
NAAEE is pleased to announce that the search for the 2018 EE 30 Under 30 is now open! In partnership with the Global Environmental Education Partnership (GEEP), and U.S. Forest Service, the EE 30 Under 30 program is searching for individuals from around the world, 30 years of age or younger, who are leaders in their communities creating change through environmental education.
Of the 30 finalists, three to four candidates will be selected to speak at the closing panel discussion of the NAAEE conference in Spokane, Washington on October 13, 2018.
We hope to provide continuous professional development opportunities for this next generation of leaders throughout the year, through webinars, resources, and networking opportunities. As part of our effort to keep the EE 30 Under 30 alumni better connected and supported, we will be starting a scholarship program for past and current winners to attend the NAAEE conference in Spokane.
If you think you would be a good fit for the EE 30 Under 30 network, or you know someone who would be, please submit a nomination!
Click here to APPLY NOW or Nominate A Young EE Leader You know!
*In order to expand our network of recognition, previous EE 30 Under 30 winners are not eligible to apply again.
The nomination process closes on June 18, 2018, at 11:59 pm ET. If you have any questions, please contact Melissa Taggart, Director of International Programs (mlhopkins100@gmail.com) or Drew Price, Operations and Programs Manager (drew@naaee.org).