Free Fall Outdoor Learning Workshop Series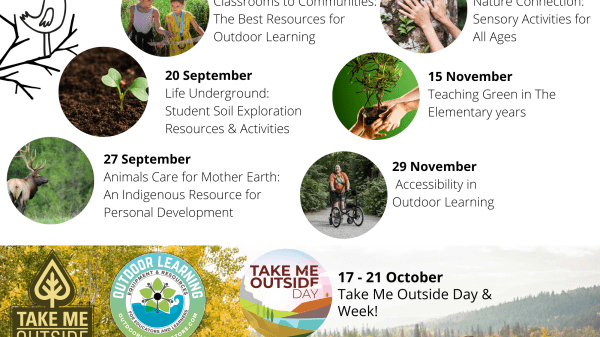 We are partnering with our Outdoor Learning Partners to offer a series of FREE Fall Outdoor Learning Virtual Workshops! 
On Tuesdays from September–November, these 60 min stand-alone workshops come jam-packed with ideas, inspiration and resources from some of the best outdoor learning organizations and leaders in North America. Included in your registration is a certificate of attendance, discounts on outdoor learning resources & equipment, and plenty of prizes! 
This Fall Virtual Workshop Series includes: 
Sept 13: Classrooms to Communities: The Best Resources for Outdoor Learning!
Sept 20: Life Underground: Student Soil Exploration Resources & Activities 
Sept 27: Animals Care for Mother Earth: An Indigenous Teaching Resource
Oct 4: Nature Connection: Sensory Activities for All Ages
Nov 15: Teaching Green in the Elementary Years
Nov 29: Accessibility in Outdoor Learning