Rated EE for Environmental Education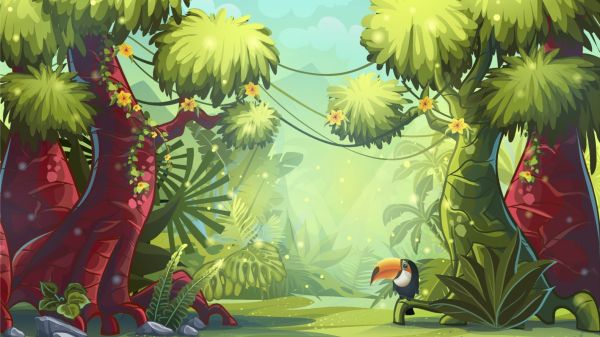 6 Digital Games that Immerse Youth and Adults in EE
I'm not an avid gamer. I can't remember the last video game I played, and I don't think the Solitaire that comes with my PC counts. But the following digital finds are so imaginative and thoughtful in the way they integrate environmental education, that they've rekindled my appreciation for digital games, including video games, augmented reality, and online games. Whether you're a novice player or an expert gamer, level up your environmental education with these six recommendations:
 Never Alone (Kisima Ingitchuna) (Video Game)
Ages 10+
Single or Multi-player mode
$4.99 for mobile devices and from $14.99 for other platforms
Available for iPhone/iPad, Android, Windows, Mac, Linux, and most major gaming consoles
Creators: Upper One Games and E-Line Media
All I can say is, "Wow!" I love how much storytelling and respect for the environment is in this game. Developed in collaboration with the Iñupiat, an Alaska Native people, Never Alone is an immersive, educational video game portraying an enchanting Arctic environment and rich storytelling from Elders and other members of the Alaska Native community. Narrated entirely in the Iñupiaq language, the game begins with the narrator inviting the player to listen, "I will tell you a very old story," and then continues to unravel the main plot of the game, which is an all-consuming blizzard and the player's quest to find the source of the inclement weather.
Throughout the game, there are a series of "Cultural Insights" videos unlocked. In these short videos, the player learns more about the game's wildlife, environment, people, and culture. Qaiyaan Harcharek, one of Never Alone's cultural ambassadors, relates, "What's really important about this game is having that accurate representation of ourselves. This is the first of its kind."
 Never Alone is also rated "Teacher Approved" for learning, design, and messaging.
Creator Highlight: Elizabeth LaPensée, Ph.D.

With a penchant for creating unconventional visuals and elevating Indigenous storytelling, award-winning designer, writer, artist, and researcher Elizabeth LaPensée Ph.D. is forging new and meaningful game experiences in Indigenous-led media. She is Anishinaabe with family from Bay Mills, Métis, and Irish. Read more about her work here.
 When Rivers Were Trails (Video Game)
Ages: 10+
Single player mode
Free
Available for Windows and MacOS
Creators: A collaboration with the Indian Land Tenure Foundation and Michigan State University's Games for Entertainment and Learning Lab, and funded by the San Manuel Band of Mission Indians
From creative directors Elizabeth LaPensée Ph.D. and Dr. Nichlas Emmons, When Rivers Were Trails is set in the 1890s during a time of life-changing transition. This 2D point-and-click adventure game is played from the point of view of an Anishinaabeg player displaced from their home. In an interview with publication Indian Country Today, Elizabeth LaPensée Ph.D. shared what players may come away with from the game, "What's so powerful about this game is that it walks the line between fiction and history and can set the record straight about stories that happened during the Allotment Act." When Rivers Were Trails is based on Lessons of Our Land, a preschool through 12th grade curriculum by the Indian Land Tenure Foundation.
Thunderbird Strike (Video Game)
Ages: Everyone
Single player mode
Free
Available for Windows, Android and Apple smartphones and tablets
Creators: Design, art, and writing by Elizabeth LaPensée, programming by Adrian Cheater and Aubrey Jane Scott, and music and sound effects by NᾺHGĄ a.k.a. Casey Koyczan
Thunderbird Strike is a rousing 2D sidescroller game, which engages the player in captivating visuals, electrifying music, and a compelling storyline. As a thunderbird, the player's goal is to protect Turtle Island from the snake of oil and development. In the game, the player flies through the clouds to generate electricity and then scores points for destruction and restoration by clicking on various objects on the surface and underground.
The White-Nose Syndrome (Online Game)
Ages: Everyone
Single player mode
Free
Available online
Creators: Arbor Interactive, Ravenswood Media
The player's goal in the White-Nose Syndrome (WNS) Video Game is to protect the bats' survival through a combination of management decisions. The player first surveys different sites such as a cave, a farm, or woodland, and then chooses whether to protect, research, or open to tourism. Each survey site has a monetary cost that increases during the game, and each management choice has health benefits or costs to bats and research points. There is a brief pause in the game when winter sets and when the player sees the consequence of different management plans. By choosing tourism too many times, the detrimental cost to the bats' health means many bats die during winter. It's not easy to succeed in the game. I couldn't find the right combination of choices my first time playing and after three winters, the bats went extinct. In that way, players learn there are consequences to environmental management decisions. Hopefully, next time I'll find the right actions to help the bats adapt and evolve.
Kelp Forest Game and eBook (Online Game)
Ages: Everyone
Single player mode
Free
Available online
Creators: Game Cloud Studios and Monterey Bay Aquarium
The Kelp Forest game begins with the player learning under which conditions a kelp forest can grow, including surface, temperature, and current. From there, the game progresses from the beginner round to the advanced round by introducing individual species of fish, isopods, detritivores, and more to learn how each changes the kelp forest's ecosystem. In the bonus round, the player is introduced to benthic invertebrates, camouflage, and symbiosis.
 Fresh Air Pick
Agents of Discovery (Augmented Reality Game)
Ages: Everyone
Single player mode

Free

Available for Android and Apple smartphones and tablets
Creator: Mission Maker 
Rise from your gaming chair and step outside with the Agents of Discovery app! After a quick account setup and login, the app uses my device's location to show nearby missions in federal public lands. For me, the nearest location is the Campbell Creek Tract in Anchorage, Alaska, a public land site managed by the Bureau of Land Management, but by adjusting the distance I could also see missions located in National Wildlife Refuges and National Forests.
Venturing into the spruce and birch forest during winter under the app's guidance was an exciting and educational experience. On my screen, Agent Dipper introduces itself as my avian guide for this forest foray. As I walk around the trail, I search in my phone's screen for virtual objects, sound and image matching games, and challenges. It's a novel experience compared to my usual non-digital hikes, but I find it easy to toggle back and forth from my screen to the real world. It's also a fun and socially distant way to learn in the outdoors. Nature needs no enhancement, but in today's digital age, the Agents of Discovery app offers a bridge between digital engagement and outdoors learning.
Do you have a favorite EE game that isn't on our list? Comment below!
More of a board game fan? Check out #NAAEE2020 Gems: Recommendations for EE Board Games!