Summer Institute: Jumping from Joy to Action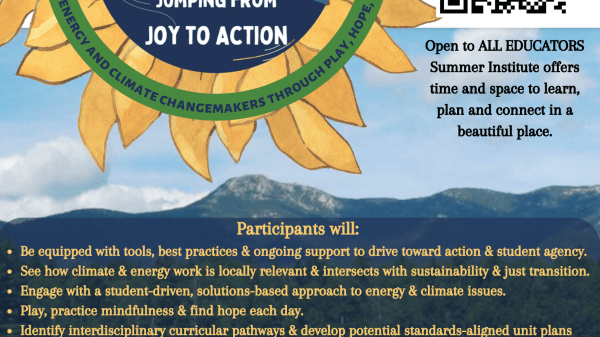 Summer Institute: Jumping from Joy to Action: Empowering Energy and Climate Changemakers through Play, Hope, and Wonder
August 7–11 at The World Fellowship Center in Albany, NH
The 2023 VEEP/NHEEP Summer Institute encourages teachers to use play, wonder, and hope as catalysts for inspiring students to make change and to find joy in taking action.  We will model empowering, interdisciplinary, student-driven instructional practices to connect students to energy and climate topics and to help them find meaningful and authentic ways to be part of evidence-based solutions in their communities.
Our week of professional learning offers time and space to learn, plan, and connect in a beautiful space. Aside from the expertise provided by VEEP/NHEEP staff (around curriculum and hands-on equipment, NGSS, energy and climate education and action project support), we are excited to be offering workshops from incredible partnering presenters throughout the week, including:
+WAYS (Wabanaki Youth in Science Program)
+Youth Climate Fellows and members of Seacoast Students for Sustainability
+Jamie Henn of Fossil Free Media and Co-Founder of 350.org
+White Mountain Science, Inc. (WMSI)
While enjoying 5 days and 4 nights with accommodations on a lake in the White Mountains, participants will:
Be equipped with tools, best practices & ongoing support to drive toward action & student agency.
See how climate & energy work is locally relevant & intersects with sustainability & just transition.
Engage with a student-driven, solutions-based approach to energy & climate issues.
Play, practice mindfulness & find hope each day.
Identify interdisciplinary curricular pathways & develop potential standards-aligned unit plans that use joy and hope to inspire meaningful learning & climate action.