Communities Grow Greener When Young People Have a Voice: Building Alliances for Place-Based Learning and Civic Action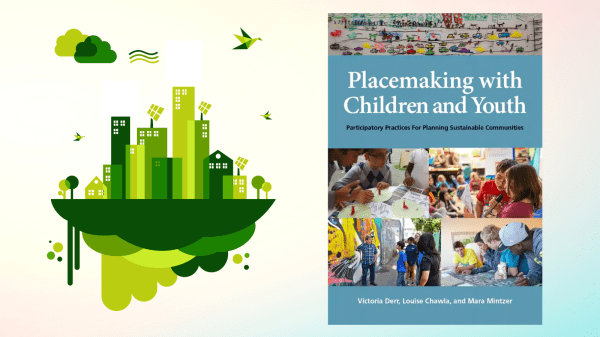 Tuesday, June 22, 3:00–4:00 PM ET – RECORDED
This webinar walks you through key steps in involving young people in local investigations and civic action to improve their communities, including building sustained relationships with community partners. It demonstrates how to apply two complementary resources—Community Engagement: Guidelines for Excellence by NAAEE and Placemaking with Children and Youth: Participatory Practices for Planning Sustainable Communities by the webinar presenters. Together, these guidebooks show you how to create ethical, inclusive partnerships between schools and local institutions; identify and implement participatory methods for students to investigate and address local needs; analyze and share results; and evaluate outcomes.
This webinar focuses on partnership building and participatory processes for place-based learning and action. As examples, it features three projects:
Partnerships between classes in undergraduate environmental education and elementary and middle school classes in socioeconomically disadvantaged California schools, contributing to the restoration of uplands that feed into a tidal marsh, in one case, and to the transformation of an outdoor classroom, in the second case; and
A year-long process that brought elementary school classes in Colorado together with their city's Department of Open Space and Mountain Parks to design an outdoor nature discovery zone on city land adjacent to school grounds.
Speakers:
Louise Chawla is Professor Emerita in the Program in Environmental Design at the University of Colorado Boulder, and an active member of the university's Community Engagement, Design and Research Center. Her research and publications focus on children and nature, children in cities, participatory design and planning with young people, and the development of committed action for the environment.
Victoria Derr is Associate Professor of Environmental Studies at California State University Monterey Bay, where her teaching and research focus on the intersections between sustainable communities, place-based environmental education, and social justice, particularly in under-represented communities. In addition to the recent Placemaking book featured in this webinar, Dr. Derr is also editor with Yolanda Corona of the 2021 book Latin American Transnational Children and Youth: Experiences of Nature and Place, Culture and Care Across the Americas by Routledge Press.
Kianni Ledezma holds a B.A. in Environmental Studies with a concentration in environmental education from California State University Monterey Bay. She currently works as an educator for NatureBridge's Coastal Camp. Previously, she worked as a Naturalist Intern for San Mateo Outdoor Education and as a Garden Educator for Grant Union High School's Environmental Academy. She was a researcher in a participatory program at Los Árboles Middle School to engage youth in culturally relevant science and completed service learning with Regeneración: Pájaro Valley Climate Action Group and Return of the Natives.
Mara Mintzer is a Co-Founder and Executive Director of Growing Up Boulder (GUB), Boulder, Colorado's child- and youth-friendly city initiative. She presents and writes internationally on child-friendly cities and how to engage young people in community planning, including in her TEDx talk, "How Kids Can Help Design Cities," which has been viewed more than 2.3 million times. Before GUB, Mintzer designed and implemented programs for socioeconomically disadvantaged children and families in New York and California.    
eeINSPIRE: Sparking Innovation in Environmental Education

We are pleased to continue eeINSPIRE, NAAEE's webinar series presented in partnership with the US Forest Service. This series is designed to bring new ideas and thinking to USFS conservation educators, but is open to all who want to sign up! 
Upcoming eeINSPIRE Webinars
Future topics will include: increasing civic engagement through education and service learning, becoming a natural and effective storyteller, citizen science in education, building a diverse and inclusive field, and more. 
We look forward to seeing you online, and stay tuned for updates on upcoming webinars in the series!