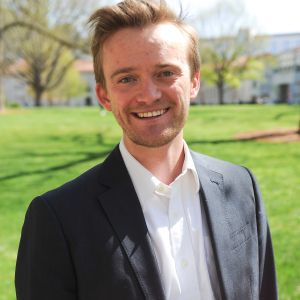 Andy David (He/Him)
International Programs Coordinator
NAAEE
Redlands, California,
Interests
Biodiversity, Civic Engagement, Conservation, Environmental Literacy, Evaluation and Assessment, Forestry, Justice, Equity, Diversity, and Inclusion, Marine, Natural Resources, Water
Social Links
Andrew (Andy) David joined the NAAEE team in 2022 and is currently an international programs coordinator. Andy has a passion for environmental education, sustainable development, and working across cultures. He has a B.A from the University of Wisconsin-Madison and a Master's in Development Practices from Emory University. Andy has worked in the U.S states of Wisconsin, Montana, and Georgia and has worked internationally in Ghana and Kenya. He is from a small town on the shores of the Gichigami (Lake Superior).
Read More

Andrew (Andy) David grew up in Washburn, Wisconsin, a small town on the shores of Lake Superior. In 2019, he graduated from the University of Wisconsin-Madison with a B.A. in Geography and Political Science and minors in African Studies and Development Economics.

Following his undergraduate degree, he served as an AmeriCorps VISTA at Glacier National Park in a Tribal Liaison role. There, he worked to build trust between local Indigenous populations and the Park to collaboratively manage natural and cultural resources and grow economic opportunities. He continued working with the National Park Service, spending a season at the Apostle Islands National Lakeshore.

In 2022, he completed a Master's in Development Practice (MDP) from Emory University, with concentrations in Environmental Sustainability and Monitoring and Evaluation. Throughout his time at Emory, he completed two practicums: one at the Georgia Conservancy (2021) and the other at World Agroforestry (CIFOR-ICRAF) (2022). At World Agroforestry, he worked on the Regreening Africa project, which restores degraded land across the Sahel through agroforestry and farmer managed natural regeneration.