Climate Change Books for Educators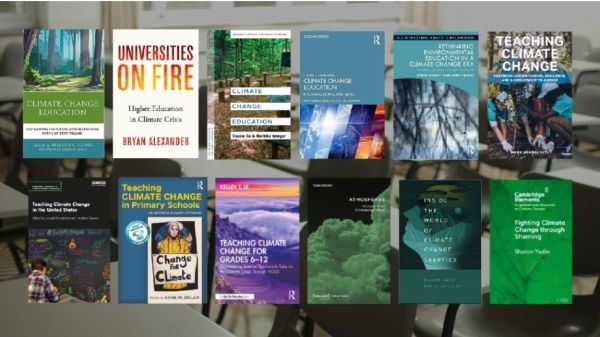 These books span the issue of climate change from the effects it's already having on the education system, to pedagogical solutions and resources. The last few take a look at climate change through different disciplinary lenses to help educators and students see it from different angles, with the hope that a new approach will help with new information and solutions. 
Some of the books featured include:
Universities on Fire: Higher Education in Climate Crisis by Bryan Alexander
Climate Change Education: An Earth Institute Sustainability Primer by Cassie Xu and Radhika Iyengar
Teaching Climate Change: Fostering Understanding, Resilience, and a Commitment to Justice by Mark Windscitl
Rethinking Environmental Education in a Climate Change Era: Weather Learning in Early Childhood by Tonya Rooney and Mindy Blaise
Atmosfears: The Uncanny Climate of Contemporary Ecofiction by Natalie Dederichs
Inside the World of Climate Change Skeptics by Kristin Haltinner and Dilshani Sarathchandra
Have you read some of the books on this list? Do you recommend any others? Please share your thoughts in the comments below!