Environment 2042 Leadership Program For West Coast Environmental Educators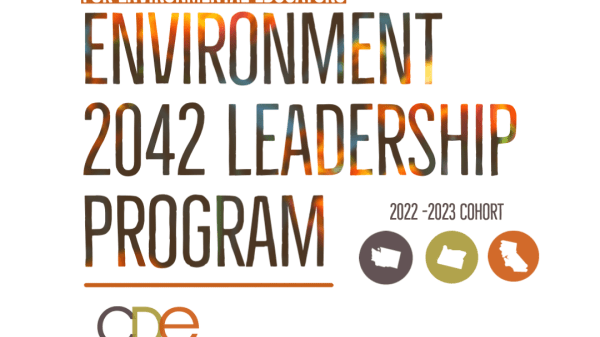 The Center for Diversity & the Environment is pleased to announce that we are offering an Environment 2042 Leadership Program (E42) for up to 30 leaders from the environmental education field.
The purpose of the E42 is to grow a diverse and inclusive regional (Washington, Oregon and California) network and community of leaders who have the knowledge, support, and agency to bring about more equitable and culturally expansive environmental education (broadly defined to include culturally specific educators; folks working on environmental justice; environmental educators; and others).
The goals of this program include:
Developing leaders who are committed to effectively moving equity, diversity and inclusion forward in their sphere of influence.
Relationship and community building, especially across race and ethnicity.
Encouraging innovation through the exchange of ideas among people with diverse perspectives.
Learning about and raising awareness of equity, diversity and inclusion.
Strengthening the environmental education movement by uplifting all voices.
Applying learning to action.
The virtual cohort will convene in Fall 2022. We are committed to meeting learners where they are, inviting the participants' collective wisdom, and following an emergent process that models a decolonized approach to learning. We aim to support authentic learning, community and relationship building through a decolonized approach to training, facilitation and engagement.
We encourage you to apply to become a member of a regionally recruited team with partners across multiple dimensions of diversity!