Spring Outdoor Learning Virtual Workshop Series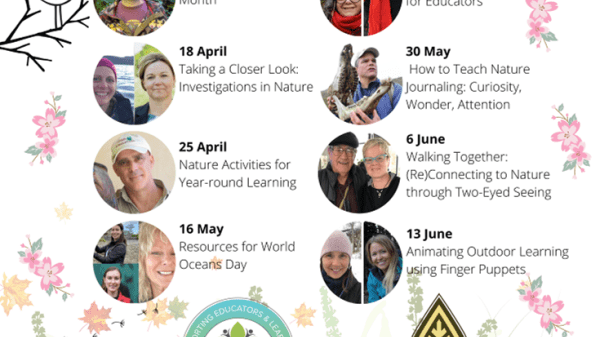 There is something for every educator at these 60-minute virtual workshops featuring a diversity of presenters and topics. In addition to ideas & inspiration, you'll walk away with a certificate of attendance, discounts on outdoor learning resources & entry for some great prizes! 
These all take place on Tuesdays at 4pm Pacific / 7pm Eastern: 
March 7: School Gardening: Teaching Tools & Resources
April 11: Resources for Earth Month 
April 18: Taking a Closer Look: Investigations in Nature
April 25: Nature Activities for Year-Round Learning
May 16: Resources for World Oceans Day
May 23: Race and Nature for Educators
May 30: How to Teach Nature Journaling: Curiosity, Wonder, Attention
June 6: Walking Together: (Re)Connecting to Nature through Two-Eyed Seeing
June 13: Animating Outdoor Learning using Finger Puppets
These are offered in partnership with 70+ outdoor learning partner organizations!