Sagebrush Ecosystem Curriculum, Poster, and Training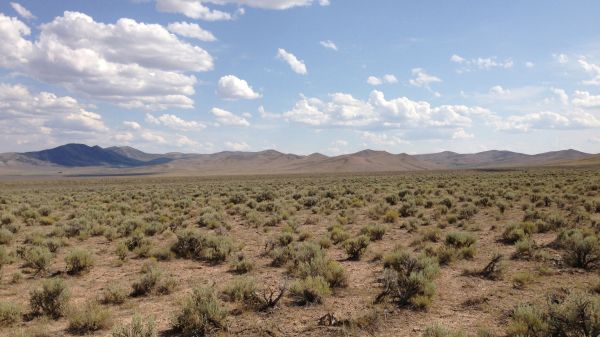 A formal educational program has been developed by the U.S. Fish and Wildlife Service in collaboration with Engaging Every Student and other partners to help teachers get students thinking critically about the sagebrush ecosystem, and ways to protect it and the diverse species that live there. With a compelling curriculum that includes lesson plans aligned to standards for grades 4-8, four short videos produced by RangeWide Productions and the Cornell Lab of Ornithology, Sagebrush Ecosystem trunks developed by Rocky Mountain Audubon and other engaging resources, we seek to connect with the next generation of land stewards. The curriculum program has the potential to touch the hearts and minds of tens of thousands of students over the next decade.
Research has shown the many benefits of getting students outside to connect with nature. The Sagebrush Ecosystem trunks are critical to the project, providing the hands-on element to get kids excited about the lessons and provide teachers with easy to use resources.
Lesson Topics
Greater Sage-Grouse and the Sagebrush Ecosystem
Invasive Plants: A Threat to Sage-Grouse Habitat
Native Plants in Sagebrush Ecosystems
Food Webs in the Sagebrush Sea
Fire! Impacts on the Sagebrush Ecosystem and Human Communities
Succession in the Sagebrush Ecosystem
Sagebrush Survival
Human Connections to the Sagebrush Sea
Wildlife Restoration Plans
Community Presentations
The 10 lesson plans were developed in collaboration with a diverse range of partners including the Bureau of Land Management, the Idaho Rangeland Resource Commission, Audubon Rockies, and classroom educators. All stakeholder perspectives were represented, including those of the states, the federal family, teachers and non-governmental organizations. The lessons went out for review on November 20, 2015 to more than 50 partners, and enthusiastically positive and supportive feedback was received. ______________________________________________________
Website Resources
You can find all the resources for this engaging curriculum on the Service's Greater Sage-Grouse Education website: http://www.fws.gov/greatersagegrouse/education.php
______________________________________________________
Free Training Opportunity for Educators and Partners
Webinar was recorded on March 9th, 2016 and will be available on the website above soon.
______________________________________________________
Free Sagebrush Ecosystem Poster
If interested, please contact Anna Harris, anna_harris@fws.gov or (503) 231-6208.