Outdoor Learning Spring Virtual Workshop Series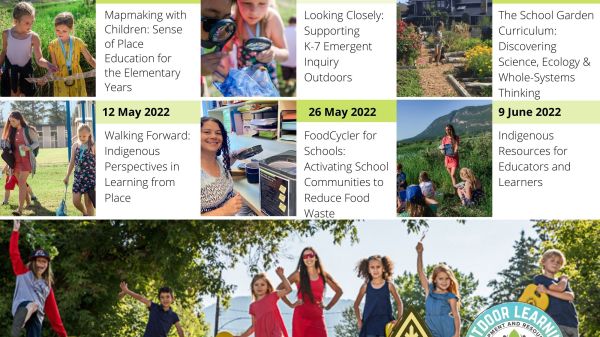 Our Spring Outdoor Learning Virtual Workshop Series is now open for registration. 
This free seasonal series offered by our Outdoor Learning Partners brings together some of the top names and organizations in outdoor learning from across North America. 
In addition to ideas and inspiration, participants will also receive a certificate of attendance, a discount code to access outdoor learning resources, and an entry for some great draw prizes! 
This Spring Series happens online on Thursdays at 4pm Pacific / 7pm Eastern, and includes: 
April 14 - Mapmaking with Children: Sense of Place Education for the Elementary Years with Place-based Learning Expert, David Sobel
April 21 - Looking Closely: Supporting K-7 Emergent Inquiry Outdoors with Outdoor Educator Extraordinaire, Megan Zeni
April 28 - The School Garden Curriculum: Discovering Science, Ecology, and Whole-Systems Thinking with Author, Kaci Rae Christopher
May 12 - Walking Forward: Indigenous Perspectives in Learning from Place with Authors Gillian Judson and Heidi Wood
May 26 - The FoodCycler for Schools: Activating School Communities to Reduce Food Waste with EcoSchools and Food Cycle Science
June 9 - Indigenous Learning Resources for Educators and Learners with Indigenous Advisor Jenna Jasek 
April 7, May 5, June 2: Monthly Campfire Connections Virtual Gathering with the Global, Environmental and Outdoor Education Council (GEOEC)