Moving Field Guide: A Kinesthetic Approach to Environmental Education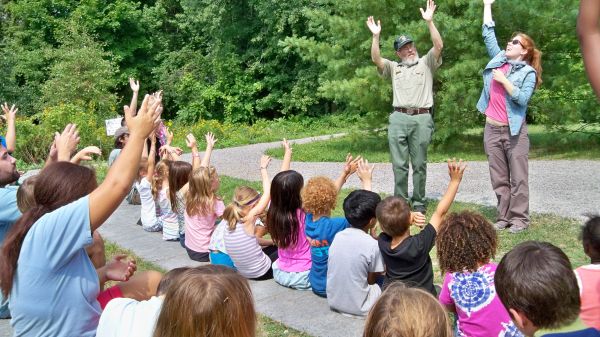 Thursday, April 8, 3:00-4:00 PM ET - RECORDED
This experiential workshop explores creative tools and practices for embodied environmental education through Cassie Meador's Moving Field Guide (MFG). Designed in collaboration with Dr. Jamé McCray, the workshop introduces you to Moving Field Guide techniques and model kinesthetic activities you can use to support learners of all ages in connecting to their bodies, each other, and their environment. See Moving Field Guide in action here. 
The workshop also provides a preview of the new Moving Field Guide Discover series, currently being piloted with the US Forest Service as well as Great Smoky Mountains National Park. The video series promotes discovery of the environment through art and science, moving people of all ages to grow their connection, appreciation, and ultimately stewardship and advocacy for the environment.
The Moving Field Guide was developed through a partnership with Dance Exchange and the US Forest Service. Since 2012, Dance Exchange has led more than 200 MFGs nationwide, from the islands of Hawaii to the deserts of Arizona, in the coastal wetlands of Maine, and the mountains of North Carolina. We've worked with formal and informal educators, moving with students and communities in city parks, schoolyards, botanic gardens, and nature centers.
Speakers:
Cassie Meador, Executive Artistic Director of Dance Exchange, is a choreographer, educator, and writer whose work embraces a cross-disciplinary approach to artmaking, education, and social change and encourages environmental stewardship through embodied learning.
Jamē McCray, PhD, is a coastal ecologist who uses dance, personal stories, and scientific facts to foster learning and increase the diversity of communities engaging in discussions about today's social and environmental challenges.
If you have any questions for the speaker or comments regarding this webinar, please sign into your eePRO account and add below this post. Thank you!
 
eeINSPIRE: Sparking Innovation in Environmental Education

We are pleased to continue eeINSPIRE, NAAEE's webinar series presented in partnership with the US Forest Service. This series is designed to bring new ideas and thinking to USFS conservation educators, but is open to all who want to sign up! 
Upcoming eeINSPIRE Webinars
Future topics will include: increasing civic engagement through education and service learning, becoming a natural and effective storyteller, citizen science in education, building a diverse and inclusive field, and more. 
We look forward to seeing you online, and stay tuned for updates on upcoming webinars in the series!