2023 National Children & Youth Garden Symposium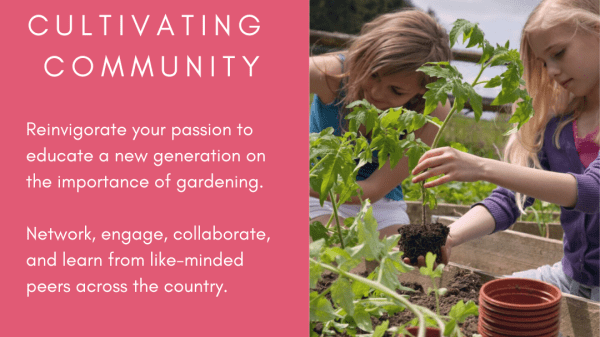 The American Horticultural Society is pleased to announce the 31st annual National Children & Youth Garden Symposium, taking place in Knoxville from July 12–15.
This year's theme, "Cultivating Community," features 30 learning sessions on topics such as Culturally Inclusive Teaching in the Garden, Universal Learning in Gardens, Anti-Racism and Garden-Based Learning, Social Emotional Learning in the Garden, Horticulture Career Exploration, and Resourcing Our Learning Communities. Presenters represent organizations such as the United States Department of Agriculture, the American Public Gardens Association, and the Plants for Human Health Institute, as well as several botanic gardens, horticultural societies, universities, schools, foundations, and other nonprofits.
In addition to workshops and talks, we will also visit several spectacular botanic gardens, school, and community gardens, and large-scale urban parks, as well as participate in a volunteer opportunity for food access. To learn more and to register, visit the symposium website linked here. Registration closes in late June.