Responding to Legislative Attacks on LGBTQ+ Communities in (Environmental) Education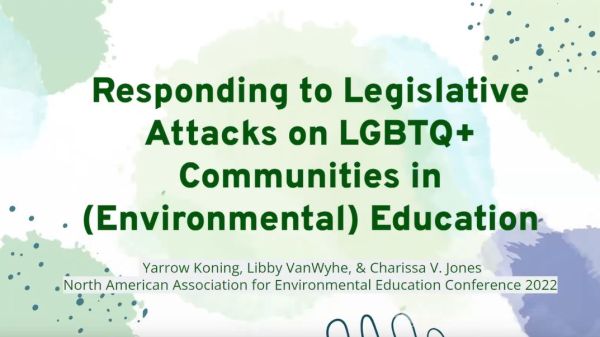 This post summarizes the NAAEE2022 session, "Responding to Legislative Attacks on LGBTQ+ Communities in (Environmental) Education," presented by Charissa V. Jones, Libby VanWyhe, and Yarrow Koning. Summary notes were initially compiled by Jimena Cuenca and reviewed and edited by the presenters with significant 2023 updates by Yarrow Koning.
Session Summary
In 2022, state legislatures across the country introduced a record number of anti-LGBTQ+ bills, and the situation has only gotten more dire in 2023. According to the Human Rights Campaign, a record number of over 520 anti-LGBTQ+ have been introduced in state legislatures this year. Of these bills, 220 specifically target transgender and non-binary people. At least 50 explicitly anti-LGBTQ+ laws have been enacted so far this year. In response to this political context, combined with cultural violence against LGBTQ+ people, the Human Rights Campaign recently declared a state of emergency for LGBTQ+ people in the U.S.
Some major trends in anti-LGBTQ+ legislation include:     
Bathroom bills and laws prohibit transgender and non-binary individuals from using bathrooms that align with their gender identity. This legislation is most frequently seen in publicly funded institutions, including schools.
Healthcare restrictions aim to limit, ban, and criminalize access to gender affirming care for transgender and non-binary people. Much of this legislation targets care for youth, but some of this legislation also impacts care for adults.
Sports restrictions legislation  target transgender athletes, particularly transgender girls and women, by limiting their participation in sports teams and competitions. Enforcement of this legislation often requires highly invasive tests.
Censorship legislation limits or bans materials regarding and discussion of topics deemed to be "(developmentally) inappropriate" or "controversial," particularly related to race, gender, and sexual orientation. This legislation impacts K–12 schools and is expanding to also include universities, libraries, and nonformal education and out-of-school time program providers. The language in this legislation is often intentionally vague, leading to a chilling effect that contributes to the erasure of LGBTQ+ people, history, and experiences from schools and public life.
Outing legislation, seen both in state and school board level educational policies, mandates teachers, administrators, and counselors non-consensually "out" LGBTQ+ youth to their parents and sometimes to other children and their parents as well.
In 2022, Florida passed three significant pieces of anti-LGBTQ legislation impacting education. The first is the "Stop WOKE Act" (HB7), which restricts discussions of race, gender, and sexual orientation in K–12 schools. The second is the "Parental Rights in Education" or "Don't Say or Be LGBTQ+" law (HB1557). This law prohibits classroom instruction on sexual orientation and gender identity in K-3 schools. The law also addresses guest instructors and third-party instructors, which has implications for environmental education organizations partnering with K–12 schools. The third law, commonly known as the Book Ban law (HB1467), creates processes that make it easier for members of the public to object to instructional materials in schools. All of these laws utilize vague language, surveillance tactics, and the threat of lawsuits to create a culture of fear and self-censorship. In 2023, Florida passed several pieces of additional legislation, expanding censorship of race, gender, and sexual orientation to grades 4–12 and to higher educational institutions. Similar legislation is spreading across the country and is harming LGBTQ+ educators, students, and those who support them.
The Role of Environmental Education
For their NAAEE presentation, Yarrow, Charzy and Libby interviewed environmental educators from the queer community.  In the (largely-anonymous) video testimony, educators were asked a series of questions, including, "How would you like to see environmental education respond to anti-LGBTQ+ attacks?" Below are some of their responses:
Creating inclusive environments where individuals (both students and staff) can thrive and be their authentic selves.
Clear institutional statements against discrimination and a commitment to inclusivity are crucial in creating a safe and supportive environment.
Neutrality is not acceptable when it comes to oppression, and organizations are encouraged to explicitly include LGBTQ+ individuals in their mission, values, and diversity statements to combat discrimination effectively.
Planning and ensuring a system in place for the physical and emotional safety of students
Important Stats
Workplace Climate LGBTQ+ Employees

46% have experienced unfair treatment at work at some point in their lives
68% reported that they have heard negative comments, slurs, or jokes about LGBTQ people at work
34% have left a job due to treatment they received from their employer

—UCLA, Williams Institute Study on Workplace Discrimination 2021
School Climate LGBTQ+ Students Ages 13–21

59% reported personally experiencing LGBTQ+-related discriminatory practices at school
56% did not report the incidence of harassment or assault at school because they doubted effective intervention would occur
Only were taught positive representations of LGBTQ people, history, or events in schools

—National School Climate Survey 2021
Mental Health of LGBTQ+ youth ages 13–24

75% reported that they had experienced discrimination based on their sexual orientation at least once in their life
94% reported that recent politics negatively impacted their mental health
42% seriously considered attempting suicide in the past year, including more than half of transgender and non-binary youth

—The Trevor Project 2021 Survey
Supporting LGBTQ+ Youth
Nondiscrimination policies: Adopt and enforce policies that include sexual orientation and gender identities
Inclusive Facilities: For example, bathrooms, cabins for residential programs
Language matters: Using correct names, pronouns, inclusive language
Be open: Allow participants to explore aspects of their identity
Supportive adults: LGBTQ+ adults as well as allies—BE BRAVE
Stay informed: Keep up with LGBTQ+ legislation and get involved in the fights ahead
Also, how are we supporting LGBTQ+ staff and educators?
"Put it in the mission" Clear anti-discrimination policies and practices
Inclusive facilities: bathrooms, cabins for residential programs
Language matters: Using correct names, pronouns, inclusive language
Education: Provide your organization with education and training around these issues
Supportive culture: Be affirming, respectful, and LISTEN. Work on active change.
Transition care: Related to staff who might be transitioning in the way that they express their gender, making sure that there is equity training on what it means to be a supportive colleague and an employer.
Memorable Quotes
"We're [making] sure that our staff and our board and our leadership are reflecting these communities so that we are best serving those students that are coming to our program that they see themselves not different from but part of our communities in the natural world and in the organizations we serve." —Interviewee statement
"All of the interviewees stressed that they wanted environmental education organizations to make their support explicit through their policies."—Libby VanWyhe
"It makes me think of a quote by a really awesome educator, Cornelius Minor, who's a Black educator from Brooklyn and he states, 'I don't look up for hope, I look around.' And I love this quote because while a lot of these attacks are coming from higher-level federal, states, I think there is a beauty in community, in cultivating it, in sustaining it that is going to help us as we are responding to the ways in which people are attacking our very existence. And it also makes me think of coalition-building with BIPOC communities, with disabled communities, other marginalized communities to push back against this tide of being othered."—Charissa V. Jones
---
Join eePRO today and be a part of the conversation!
Comment and connect with fellow professionals in environmental education. Join eePRO >