Groups Cheer Introduction of the Climate Change Education Act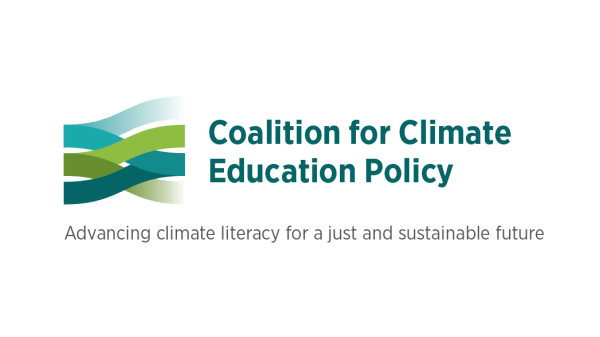 Founding members of the Coalition for Climate Education Policy (CCEP) applaud the introduction of the Climate Change Education Act. This bill will establish a climate change education program at NOAA to increase climate literacy and to establish a grant program for state educational agencies, institutions of higher education, professional associations, and youth corps organizations to develop related educational opportunities. 
Initiatives that improve climate change education and climate literacy are vital to our ongoing national effort to address this most pressing global, national, and local policy issue. Consider: 
The next generation will face worsening climate-related challenges – drought, flooding, fires, heat waves, regional economic instability, new diseases, and more – and will need the education and tools to effectively address these problems. 
People in lower income areas and many frontline communities of color are disproportionately affected by climate and environmental injustices.
Addressing climate change can offer significant opportunities for new economic growth, jobs, careers and future prosperity. Many of these initiatives will also help remedy economic and social injustices that have emerged through institutional racism, and other social inequities.
The coalition is especially pleased that provisions in the Climate Change Education Act will ensure that climate and environmental justice are included in climate change education, and a 40% investment target for environmental justice communities, in alignment with the Justice40 initiative.
CCEP would like to extend its thanks to all Members of Congress who have cosponsored the bill, with special gratitude to Senator Ed Markey and Representative Debbie Dingell for their commitment to advancing climate literacy and climate justice.
"Climate change education is an essential component of any comprehensive effort to deal with climate change and to prepare current and future generations to thrive and succeed in a clean economy. The introduction of the Climate Change Education Act is an important step in our collective efforts to advance climate literacy and climate justice for all." Judy Braus, Executive Director, North American Association for Environmental Education 
"Climate change education, based in science and social justice, and including professional learning for teachers, youth engagement, higher education, the development of curricula resources and CTE, is critical to solving the climate crisis. It is essential that we make a real investment in climate literacy to build just, equitable, sustained understanding, commitment, and action on climate change." Nicole Rom, Executive Director, Climate Generation: A Will Steger Legacy
"The purposes of schools are to improve students' lives and to prepare them to shape the future. In this moment, the climate crisis and resulting social inequities are both a present threat to our children and the greatest problems we are leaving our children to solve. Even as we contend with COVID-19, ignoring climate in our schools will cost more money, decrease resilience, add to our public health problems, and widen inequities. We urge our national leaders to support and pass the Climate Change Education Act." Jonathan Klein, Co-Founder, UndauntedK12
"Climate change education that addresses issues of climate justice is a vital stepping stone for the United States to achieve net-zero emissions by 2050. Technological innovations will only go so far without climate literacy and behavioral change. The US must step up its game in climate action by supporting the Climate Change Education Act. The wellbeing of generations today and tomorrow around the world depends on it." Christina Kwauk, Associate Director, Monitoring and Evaluation of Climate Change Education Project
"Meaningful widespread public engagement is critical to our success in achieving a just transition to a zero carbon society, and is essential to fulfilling the Action for Climate Empowerment (ACE) agenda outlined in Article 12 of the Paris Agreement. The Climate Change Education Act would support the kind of comprehensive investment we urgently need to advance evidence-based education, engagement and training efforts across multiple sectors of society. Our elected leaders need to step up to support and pass this Act."
William Spitzer, National Network for Ocean and Climate Change Interpretation
"We need relevant and meaningful climate change education across our nation including: k-16 schools; informal education institutions such as museums, zoos, and  aquariums; across all communities and sectors of civil society. This is critical to building a just, equitable and resilient future that not only meets but exceeds the goals of Article 12 Action for Climate Empowerment (ACE) of the Paris Agreement. Sustained commitment and resources as proposed by the Climate Change Education Act would advance science, justice and civic literacy across society and build the workforce we need to transition to a low carbon society." 
Jen Kretser, Director of Climate Initiatives, The Wild Center
"To prepare the next generation to face the challenges that come from a rapidly warming climate, it is up to our generation to provide the roadmap and tools to combat the crisis through both natural and technological solutions with an innovative and entrepreneurial spirit. Climate and Environmental Literacy is at the heart of what EARTHDAY.ORG strives to achieve and has worked toward for 51 years now. The Climate Change Education Act is an important first step that would provide necessary funds for government agencies to develop the tools needed to help create a climate literate workforce. EARTHDAY.ORG calls on Congress to pass this critical piece of legislation and we look forward to seeing more advancements and support expanding this kind of education." Tracey Ritchie, PhD, Director of Education, EARTHDAY.ORG
"The Federal government spends millions of dollars a year on education, yet climate change is not a significant focus. Communities must stand together now to push for the passage of the Climate Change Act. Our children are watching the world change before their eyes.  Climate literacy must be a foundation stone in our education programs going forward."
Leticia Guzman Ingram, Education Consultant, Global Choices.org
"As one of the world's biggest greenhouse gas emitters, the U.S. has a responsibility to act so that our young people stand a fighting chance against the threat of climate change. Funding this bill will support the development of climate literacy curricula, professional development for teachers, workforce training, and science, technology, health and engineering education. We are grateful to Senator Markey and Congresswoman Dingell for their leadership and for ensuring that environmental justice is included within climate change education so that communities most affected by climate impacts can have a say in the solutions we enact."
Kim Martinez, Vice President of Education and National Engagement, National Wildlife Federation
"As the climate misinformation machine runs in overdrive and increasingly targets school-aged youth and propels anti-science education policies in an attempt to misinform the public and delay climate action, the Climate Change Education Act provides a critical anecdote to deliver foundational, consensus climate science education in classrooms across the country to reverse this destructive cycle of spin and misinformation, and instead bend the narrative arc towards climate justice. We commend Senator Markey and Representative Dingell for their leadership and urge our elected officials to support and advance this legislation swiftly with the urgency that science and just require."
Leah Qusba, Executive Director, Alliance for Climate Education
"We are delighted to see such a strong statement of the importance of climate change education, which we agree is an essential part of moving our nation and our world forward on addressing this fundamental challenge. We look forward to the entire educational ecosystem—including both formal and informal educational institutions and organizations—working together to engage the public in robust discussion and action to build resilient communities and address this important and urgent issue."
Adam Fagen, Director of Communications and Advocacy, Association of Science and Technology Center
About the Coalition for Climate Education Policy
We are a diverse and cross sector coalition of organizations advocating for federal policies and cross-agency efforts to advance climate literacy in the United States. As a non-partisan network, we are working to advance climate change education and ensure that education and engagement are part of the toolbox of solutions to build more resilient communities, advance justice and equity, and create a climate-ready workforce.
Learn more: https://www.climateedpolicy.org/