Four New Children's Books to Love and Ten to Revisit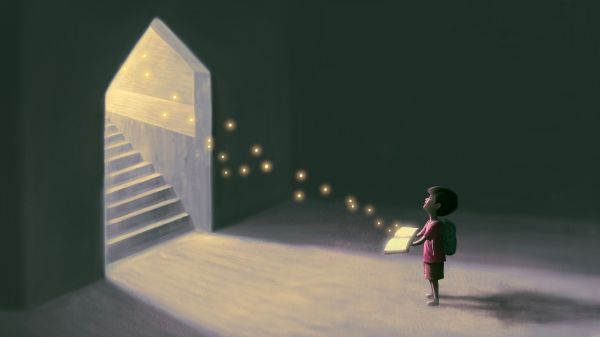 In honor of Asian American and Pacific Islander Heritage Month 2021, here are a few of my favorite recently-published and upcoming children's books from Asian American authors, as well as several classics and hidden gems from Asian, Pacific Islander, and Asian American authors. From foraging to fishing, conservation to climate change, these books support environmental education while bringing diverse perspectives to the classroom. Although reading cannot take the place of advocacy and justice work, intentional additions to a children's book library can provide children with respectful curiosity, kindness, and care for the vast world.
Published: March 30, 2021
Recommended Ages: 4–8 Year Olds
I remember crouching down to the grass, as my obaachan pointed to a patch from afar. "There, see?" she said, but I didn't see anything. She walked over and with the flexibility of a child swept her hand to the ground, grabbing several tsukushi (field horsetail). I had never seen anything like them, they were like asparagus or cattails, but miniature. I know that our time picking tsukushi was not just for dinner, but for the passing down of culture, familial knowledge, the foresight of seasons, and the landscape of home.
In Watercress, Chinese American Andrea Wang shares a personal story of foraging for watercress along the side of the road with her family. Although embarrassed at first, her feelings change when she learns of the cultural and familial ties to the experience. Illustrator Jason Chin was inspired by Chinese painting techniques for the beautiful illustrations of this book.
Published: May 4, 2021
Recommended ages: 4–8 Year Olds
To call a place home includes finding places to feel at home. Whether as a child, teen, college student, or adult, I have always searched around in my new neighborhood or schoolyard for a place to take comfort in—perhaps a tree with wide branches to look up to, a flat stone near a secretive pond, or a bench along a path flooded with joggers until nightfall.
Hope Lim takes inspiration from her own journey for My Tree, telling the story of a young boy who has recently immigrated with his family from South Korea to the United States. In his new backyard he takes pleasure in a plum tree, and his love for it spreads to inspire the imagination and tenderness of those around him. Korean illustrator Il Sung Na draws his own memories into this book in playful and inspiring illustrations.
Release Date: August 24, 2021
Recommended Ages: 4–8 Year Olds
If you search "three oceans meet" on Youtube, you'll find many videos of recorded awe in the small town of Kanyakumari, the southernmost tip of mainland India where the Indian Ocean, Arabian Sea, and the Bay of Bengal meet. 
Indian American Rajani LaRocca offers a lovely story of a multigenerational family trip to Kanyakumari. For one, the trip is a return, for another it's a new adventure, and for the reader, it is a delightful exploration, guided by Archana Sreenivasan's movement-filled illustrations, of the significance that nature and place can hold.
Release Date: October 5, 2021
Recommended Ages: 5–9 Year Olds
In my opinion, the best children's books teach you something new, to become a memory stored in the heart. While I have no personal need for children's books at present, From the Tops of the Trees is one book I will be saving for the future, out of my gratitude for its unprecedented telling.
From the Tops of the Trees is Hmong American writer Kao Kalia Yang's own story of growing up in the Ban Vinai Refugee Camp in Thailand. At the age of four, she becomes curious about what lies beyond the camp, what exists in the world beyond. Her father takes her up the tallest tree, and together they gaze at clouds, birds, and mountains. Rachel Wada's illustrations capture the triumphant beauty of nature in a way only art can.
Classic and lesser-known environmental education gems from Asian American, Pacific Islander, and Asian authors:

A Different Pond written by Bao Phi, illustrated by Thi Bui

Crow Boy by Taro Yashima

Like the Moon Loves the Sky written by Hena Khan, illustrated by Saffa Khan

P.S. What's Up with the Climate? Written by Bijal Vachharajani, illustrated by Archana Sreenivasan

Puteri Tioman the Green Turtle written by Rossiti Aishah Rashidi, illustrated by Farrah Ashiela Samsuri

The Little Black Fish written by Samad Behrangi, illustrated by Farshid Mesghali, translated by Azita Rassi

The Night Monster written by Sushree Mishra, illustrated by Sanket Pethkar

Too Many Mangoes written by Tammy Paikai, illustrated by Don Robinson

Why the Piña Has a Hundred Eyes and Other Classic Philippine Folktales About Fruits written by Neni Sta. Romana-Cruz, illustrated by Felix Mago Miguel

Winter Melon Story by Naomi Lau