Five Reasons to Register for the #NAAEE2020 Conference Recordings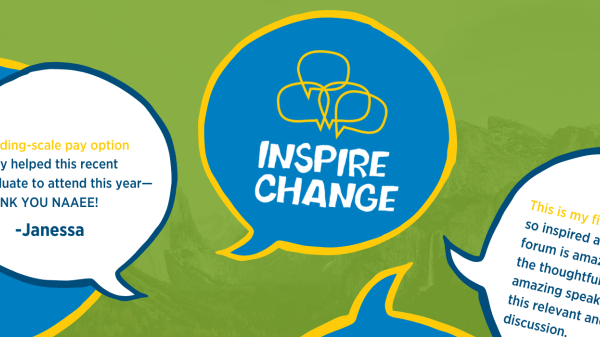 1. Meaningful and Relevant Conversations
"The most meaningful and relevant conversation I have heard in months. Thank you for sharing your stories in such powerful ways—inspiring and thought-provoking and encouraging. Thank you all!" -Marian
Marian shared these words after our kick-off panel, "Real Talk About Race, Nature, and Education," with Audrey Peterman, J. Drew Lanham and Aimee Nezhukumatathil, and that was merely the beginning! Our presenters and attendees consistently united together in diving deep, and we encourage you to join. As you enter into these conversations, we think you'll find yourself saying, "That's exactly what I was wondering," as well as "I'm so glad I can press pause and replay!"
2. 400+ Recordings Ensure the Topics You Want
20+ sessions on equity and inclusion, 20+ sessions on climate education, 17 sessions on K–12 curriculum, 11 sessions on evaluation, 8 sessions on digital learning, and 6 sessions on community science. Our pre-conference reviewers have ensured that each session contains unique and valuable content for the EE community. Use the search bar in Whova to find relevant sessions to your interests, and note the sessions with a high number of "likes"!
3. We Won't Let Cost be a Deterrent
A sliding-scale pay option really helped this recent graduate to attend this year—THANK YOU NAAEE!  -Janessa
A virtual conference means that anyone should be able to join, and we're glad to report that over half of our conference attendees took advantage of our sliding scale this year. Coincidence that over half of our attendees were conference first-timers? We think not. We continue to offer affordable pricing options for the recordings. Learn more here.
4. A Space for EE Contacts, Resources, and Chit Chat
Registering to access conference recordings includes access to our conference platform app, Whova, on which community board discussions can continue until Sept. 2021. Connect with Peace Corps alum in the EE community, find other EE freelancers, or discuss the best field guides and nature board games (we're not making these up—these discussions already exist!). Or scroll through the list of attendees to find EE professionals to connect with in your area.
5. Feel the Inspiration Kick In
This is my first NAAEE and I am so inspired and grateful. This forum is amazing—thank you to the thoughtful organizers and amazing speakers for providing this relevant and timely discussion. -Amanda
There's a lot of work to get done. And this is a hard season. How about adding a sprinkle of inspiration into your day—perhaps a few short bright spots, or adding a "session and snack time" to your afternoon? This year's conference theme is "Inspire Change" and all of our sessions, keynotes, and workshops tie into this discussion. There's no better feeling than realizing you're not alone in the fight, plus you'll gain more than a few tips and resources while you're here.
If you haven't already, we hope you'll register! Learn more about how to access the conference and research symposium recordings at conference.naaee.org.