Developing the Capacity of Youth Leaders to Drive Watershed Education and Conservation Initiatives in Puerto Rico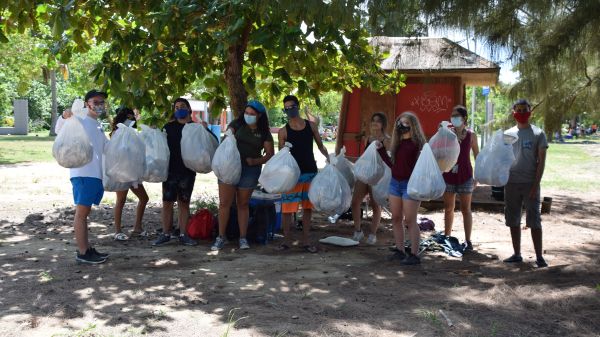 Written by Sean Russell
Around the world, our water resources face a diverse array of threats and challenges. To meet these challenges, it is critical to engage community members, and in particular, youth leaders, in taking action to monitor and protect their local waterways. For nearly two decades, the EarthEcho Water Challenge has equipped young people with the tools to become citizen scientists – monitoring water quality in their communities, sharing their data through a global database at monitorwater.org, and taking direct action to improve the health of their local watersheds. 
Over the past three years, I've had the pleasure of working with and supporting our EarthEcho Water Challenge Ambassadors – a youth leadership initiative launched in 2018 to help empower young people across the U.S. to lead water quality monitoring and watershed education programs in their local communities. 
This year, thanks to support from the NAAEE 30Under30 Changemakers Grant, and a collaboration with EarthEcho partner, the San Juan Bay Estuary Program, I was able to develop a unique opportunity to pilot this program for a new class of 11 youth leaders across Puerto Rico. The inaugural Puerto Rico class of EarthEcho Water Challenge Ambassadors kicked off their work connecting virtually this summer and began efforts to conduct monthly water quality monitoring at sites across the island. In the words of Water Challenge Ambassador Gianna Tomassini, "Through the Water Challenge, I have been able to learn more about the importance of water quality and have been able to teach others about it. It has been really impressive to see how so many people are interested in helping the environment one step at a time."
After learning more about water quality monitoring, as well as water quality challenges and solutions in Puerto Rico, these youth leaders joined fellow Ambassadors from across the U.S. and a global audience of participants at the virtual EarthEcho Youth Leadership Summit in August, where they developed plans to implement their own community-based water quality monitoring education events for World Water Monitoring Day in September and gained skills to help ensure the success of these events. 
As a result of COVID-19, Ambassadors worked with our team and their peers to successfully adapt their plans to create innovative, digital water monitoring events/activities for local students, as well as socially distant outdoor monitoring activities for small groups. Their flexibility, persistence, and leadership in building these environmental education experiences under unique circumstances were extremely inspiring. Ultimately, our Puerto Rico Ambassador team reached over 200 participants through their events, while gaining skills in citizen science, education program development, and event planning. 
Water Challenge Ambassador Valerie Heredia shared the following lessons learned from her experiences planning her community outreach event: "One of my major takeaways from my Water Monitoring Event was the importance of flexibility. Working with middle schoolers on an online platform definitely created a challenge, prompting me to explore different formats and media, such as interactive projects, games, and videos, to make my event as engaging as possible. Though it was hard work, seeing the students' enthusiasm towards learning about the importance of conservation made the experience very fulfilling. With all of the participants signing the pledge and sharing their own efforts to help protect our local waterways, I am hopeful to see what the future holds for us."   
Building on their water monitoring and education work, our Ambassadors are currently collaborating with the San Juan Bay Estuary Program on a culminating watershed conservation project focused on coastal/aquatic habitat restoration. 
It has been an incredibly rewarding experience to see the reach and impact of our Ambassadors' work, made possible with the support from NAAEE. I look forward to collaborating with this network of youth leaders to sustain and grow this effort in the months ahead!