PlanetVision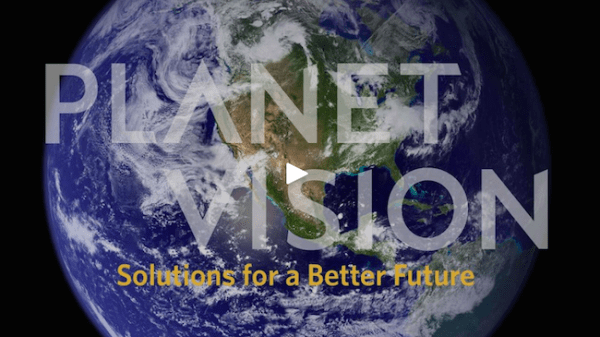 A Planetary Perspective
Our planet is changing dramatically, and changing fast—all because of human activity. The vast majority of Earth's species extinctions, resource depletion, freshwater decline, and climate change are caused by how we use and produce food, water, and energy. Changing course to build a better future is still within our grasp. By working together and looking to science and nature for guidance, we can find a new way forward.
A Plan for the Future We Want
To tackle our biggest environmental challenges, we should zero-in on their direct causes: how we use and produce food, water, and energy. Once we address these systems, we can rethink the ways we live our lives. What are the underlying causes of our environmental crises, including population growth and our unsustainable consumer throw-away culture, and how can we learn to avoid them in the future?
Rethinking Food, Water, Energy, and Ourselves: Solutions in Action
PlanetVision is here to inspire communities, businesses, governments, and individuals to turn world-changing ideas into action. How can you help? Explore impactful actions you can take to help the environment by addressing food, water, energy, and our everyday lifestyle choices. Individual actions can scale to be a big part of the solutions we need. Discover how you can multiply your inspirational and environmental impact for a better future.