Land Ethic Leader Workshop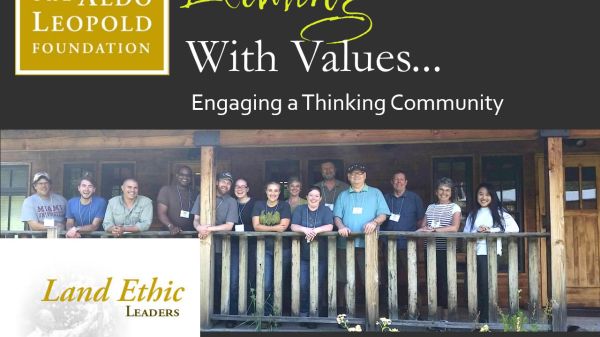 Why Should You Attend Land Ethic Leaders?
Environmental values can be challenging points of difference, but they can also provide avenues for connection. Environmental leadership requires an understanding of both the things that are hard, and the things that are hopeful about how we work to inspire and build a land ethic with others. During the program, you will engage in thoughtful, meaningful discussions around both the challenges to developing an environmental ethic, and the points of connection that may provide common ground for the way forward.
You will benefit in three ways:
1. By taking part in discussions about the big questions around conservation, we'll collectively explore how we can develop our ability to become "Land Ethic Leaders" by understanding the challenges and opportunities to developing an environmental ethic. Discussions are designed to help you come to a deeper understanding and appreciation of your own views as well as those that differ, a critical skill for engaging with your community back home.
2. Attendees also have a chance to co-lead discussions. In planning and leading your discussion, you will also build on listening and facilitation skills, which are also crucial components to leadership of any kind.
3. The "Observe, Participate, Reflect" model provides a framework to help you think about your approach to any challenge a new and open way. The program will recharge you by building clarity, commitment and community around environmental values to help carry you forward in your work. It also gives you a set of tools to help spark dialogue about the land ethic in your community, including our EMMY® award-winning Green Fire documentary about Aldo Leopold and much more.
Schedule and meals:
A detailed agenda will be sent to program participants prior to the program, but the rough agenda for all Land Ethic Leaders programs is as follows:
Day one: 9am - 5:30pm. Includes lunch and is followed by an optional group dinner (provided) at the end of the day.
Day two: 8am - 5pm. Includes breakfast and lunch.
You must be able to attend the full two day training. Partial attendance (e.g., one day only) is not possible.
Registration Fees:
The cost for the 2-day Land Ethic Leader workshop is $200. This includes most of your meals during the program and program materials, including a copy of the Green Fire film licensed for public screening (a $350 value). Travel and lodging is on your own. We have arrangements with a very affordable local hotel in Baraboo, and there are also great camping options nearby as well.
2016 Workshop Dates:
August 2017: Friday, August 4 - Saturday, August 5
September 2017: Thursday, September 14 - Friday, September 15
**A one-day Leopold Education Project educator training will be offered in conjunction with each session. See our website for details.