eeWORKS: Demonstrating the Power of Environmental Education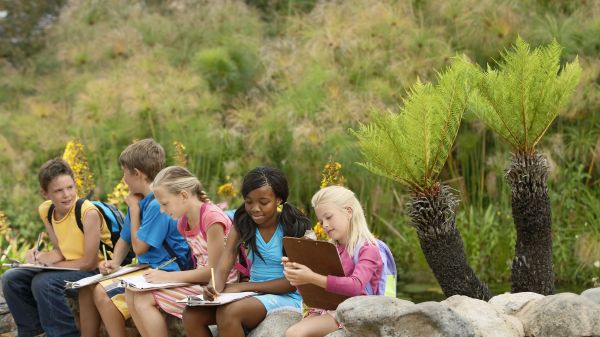 Wednesday, July 7, 3:00–4:00 PM ET - RECORDED
How do we demonstrate evidence-based outcomes of environmental education (EE) without letting go of the passion that breathes energy into the field? 
Whether you are an educator, EE provider, funder, or advocate, learn how to use the data from eeWORKS to back up the feel-good EE stories you hear about to support your work. You will hear from researchers and learn about communications tools you can use to help you structure and evaluate programs, provide professional development, apply for funding opportunities, make the case for EE to policymakers, and more.
Join us as we talk to the research teams behind the following eeWORKS publications:
eeWORKS is an initiative that seeks to explore and address critical environmental education (EE)-related questions through research. Guided by an expert advisory board, NAAEE is partnering with university-based scholars—including those at Stanford and University of Florida—to examine and coalesce the research basis that speaks to the impact and value of EE. Key outcome areas have been identified through extensive discussions with key stakeholders, such as educators, nonprofit organizations, policymakers, and funders, as well as areas under frequent discussion in the literature.
Speakers
Nicole Ardoin is an Associate Professor at Stanford University where she is the Emmett Family Faculty Scholar & Sykes E-IPER Faculty Director of the Emmett Interdisciplinary Program in Environment and Resources (E-IPER) in the School of Earth, Energy & Environmental Sciences. She runs the Social Ecology Lab—an interdisciplinary cross-campus group that focuses on individual and collective engagement in sustainability-related behaviors and practices, as well as people's connections to places and how those influence their relationships to each other and the broader ecosystem.

 
 

Alison Bowers

Alison Bowers is a research consultant and methodologist with a PhD in Educational Research and Evaluation. She has worked as a field-based environmental educator and special education teacher. Through her current work in Nicole Ardoin's Social Ecology Lab at Stanford, she is involved in several projects focused on design-thinking, collective action, and research reviews. 

 

 
 

Martha Monroe coordinated two projects for eeWORKS, one on climate change education strategies and another on outreach strategies for community climate change adaptation. She is a professor and associate director at the University of Florida's School of Forest, Fisheries, & Geomatics Sciences. She earned her PhD at the University of Michigan in 1991.
 

 
eeINSPIRE: Sparking Innovation in Environmental Education
We are pleased to continue eeINSPIRE, NAAEE's webinar series presented in partnership with the US Forest Service. This series is designed to bring new ideas and thinking to USFS conservation educators, but is open to all who want to sign up! 
Upcoming eeINSPIRE Webinars
Future topics will include: increasing civic engagement through education and service learning, becoming a natural and effective storyteller, citizen science in education, building a diverse and inclusive field, and more. 
We look forward to seeing you online, and stay tuned for updates on upcoming webinars in the series!