4 Seasons of Indigenous Learning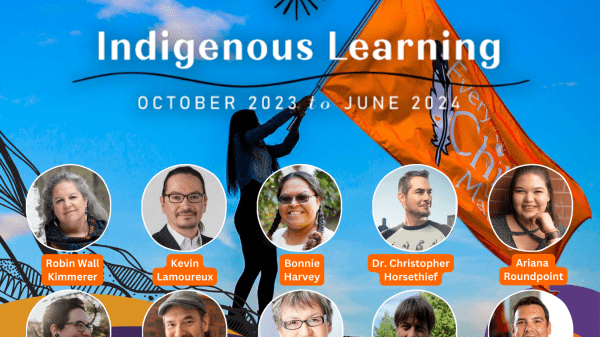 This initiative encourages and empowers educators to deepen their understanding of Indigenous knowledge and perspectives while strengthening connections with the local land.
Early bird registration is now open for the upcoming 4 Seasons of Indigenous Learning!
This includes an incredible line-up of Indigenous presenters, including: 
Robin Wall Kimmerer
Kevin Lamoureux
Dr. Niigaanwewidam James Sinclair
Dr. Christopher Horsethief
Joe and Sophie Pierre
Bonnie Harvey
Smokii Sumac
Ariana Roundpoint
Doug Anderson
In addition to the presentations, all registrants will receive: 
A Certificate of Attendance upon watching live or recorded versions of all 10 virtual gatherings (10 learning hours)
$25 towards excellent Indigenous Learning Resources
Access to a Learning Community to learn, share and connect with
This learning opportunity is open to EVERYONE. Learn more and register.
Organizations involved: The Outdoor Learning Store, Columbia Basin Environmental Education Network, Alberta Council for Environmental Education (ACEE), SaskOutdoors