Stepping Outside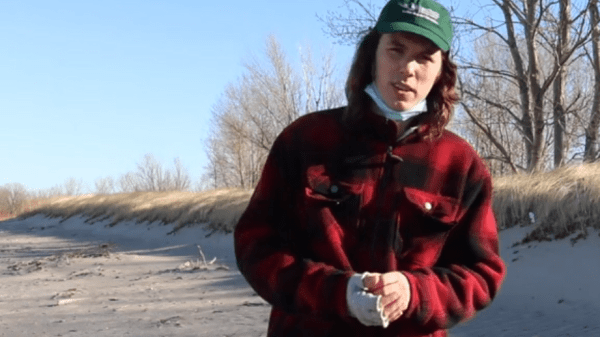 This piece was written by Mary Ronan from the Reinstein Woods Nature Preserve.
The NOAA Office of Education and NAAEE are partnering to increase environmental and science literacy among NOAA's partners and external networks. This five-year partnership is supported by the U.S. Department of Education, NOAA, and NAAEE are working together to provide enriching after-school watershed-related STEM (science, technology, engineering, and mathematics) projects through NOAA-21st Century Community Learning Centers Watershed STEM Education Partnership grants. These grants will support programming for a total of 91 local 21st Century Community Learning Centers (21st CCLC) sites and their students. The 30 selected projects are serving 17 states, ranging from Alaska to Florida.
Like many around the world, our dreams for this school year have been washed away like the runoff we hoped to sample, measure, and mitigate with students during our Watershed STEM in the Schoolyard program. As environmental educators, we teach about the adaptations of plants and animals and the changes found in succession and metamorphosis. This year, "change" and "adapt" took on new meaning for all of us.
The Education Center at Reinstein Woods Nature Preserve, a New York State Department of Environmental Conservation site that runs in partnership with the non-profit organization Friends of Reinstein Woods, had been empty for six months when staff began preparing to lead the new Watershed STEM in the Schoolyard program. The Center is located a few miles from the Buffalo River, one of the Great Lakes Areas of Concern, and a short drive from Niagara Falls, one of the natural wonders of the world. Mighty water surrounds us, but many of the students we were about to work with lacked the resources to access that water. We hoped to change that with a new program supported by a NOAA-21st Century Community Learning Centers Watershed STEM Education Partnership grant.
While we had planned to introduce students to their watershed through direct engagement, we now faced the challenge of changing their relationship to water through a computer screen. This year, we have worked with elementary students at both Maryvale Intermediate School in Cheektowaga, New York and the Learning Together Changing Lives Program in Buffalo, New York. Both 21st Century Community Learning Centers (CCLC) sites transitioned to virtual programming this year. Reinstein Woods' educator Daniel Mlodozeniec, an avid wildlife photographer and fisherman, was up for the challenge. He took his camera to the crashing beaches of Lake Ontario, dove underwater to follow a snapping turtle, identified waterfowl along the Niagara River, and invited students to share his favorite places at Reinstein Woods. Daniel has paired these weekly virtual field trips with virtual live engagement with students at both sites, a feat only made possible with the full support and active engagement of 21st CCLC staff. Students spent the fall collecting weather data using student kits made possible through the Watershed STEM grant. Daniel helped students connect these field observations to the local Niagara River/Lake Erie Watershed, threats to water quality, and careers in water-related fields.  
After seeing a picture of a Lake Erie beach in one virtual lesson, a young student shared, "We have that ocean next to my house!" At that moment it was clear that this large lake encompassed all the mystery, appeal, and excitement of a vast ocean. Daniel didn't waste a minute grabbing onto that wonder and drawing students in deeper into the world of the Great Lakes. After a few weeks, students greeted on-screen animals like old friends: "I know that! It's a sea lamprey. It's an invasive species," and "That's a sturgeon!" A fifth-grade student had a hard time recalling if a mystery call was a "great blue-heron, osprey, or barred owl," listing more species than most beginning adult birders can identify. After weeks of programming, students continue to be excited about learning. When Daniel recently asked for a volunteer to collect temperature data, one student threw both hands into the air, his thermometer clutched tightly in one fist. 
Spring is just starting to pop up in Western New York. In our streets, the flowers of red and silver maples are opening, just in time to witness 30 students and 7 educators stepping outside, noting the cloud cover, and stepping back in to report their data. We are all looking at our world with fresh eyes, but thanks to this Watershed STEM grant, we're not all seeing the same thing. "I never noticed red-tailed hawks until we started doing this," one 21st CCLC staff member remarked, "but now I see them everywhere."