It's All About the Connections!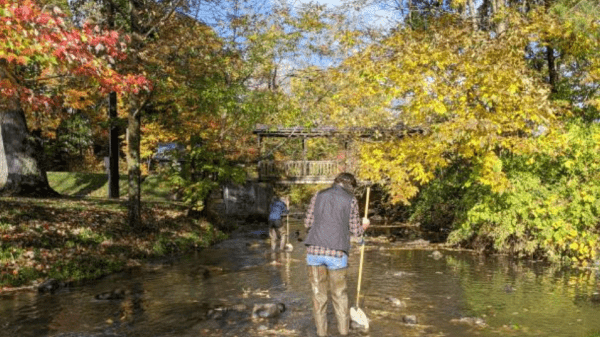 This piece was written by Creek Connections Director Wendy Kedzierski, and Allegheny College Project Assistants Gretchen Barbera and Isabella Petitta.
The NOAA Office of Education and NAAEE partnered to increase environmental and science literacy among NOAA's partners and external networks. In this five-year partnership supported by the U.S. Department of Education, NOAA and NAAEE worked together to provide enriching after-school watershed-related STEM (science, technology, engineering, and mathematics) projects through NOAA-21st Century Community Learning Centers Watershed STEM Education Partnership grants. These grants supported programming for a total of 100 local 21st Century Community Learning Centers (21st CCLC) sites and their students. The 30 selected projects served 18 states, ranging from Alaska to Florida.
Creek Connections, a watershed-based environmental education outreach program of Allegheny College in Meadville, Pennsylvania, has long been a part of a collaborative group in our community called Partners in Education (PiE). PiE includes staff of Allegheny College, the local school district, and several community organizations with an interest in youth and education. During these meetings, we share updates, listen to others, and then work on a shared issue or event. In the past, I (Wendy Kedzierski, Creek Connections director) often spoke with Dr. Amendia Dixon, the board president of the Dr. Martin Luther King (MLK), Jr. Mentoring Program Nita M. Lowey PA 21st Century Community Learning Center, which operates at the local middle school. 
Creek Connections regularly works with regional middle and high school teachers to conduct environmental education outreach, including water quality monitoring. We have grown a lot in the last 25+ years that we have been in existence. However, as teachers retired, we realized we had lost a connection with the local
middle school. Dr. Dixon and I would often chat at the PiE meetings about getting our program back into the middle school. In 2019, we made a concrete connection between our two programs and planned to have Creek Connections participate in the afterschool MLK, Jr. Mentoring Program activities. While developing our plans, the opportunity from NAAEE, NOAA, and U.S. Department of Education for STEM watershed education presented itself, and we were thrilled to receive a grant to help us bring Creek Connections back into our local middle school.
With this funding, the Creek Connections college interns (called Creekers) created and implemented an engaging four-week summer program that was part of the larger MLK, Jr. Mentoring Summer Program. We introduced the middle school students to watersheds by "going with the flow." The first week focused on Mill Run, the local stream that runs behind the school and through the downtown (often underground). Each session ended by highlighting people in different eco-careers. We then moved on to French Creek, a creek regionally famous for its high biodiversity. Week three included the larger rivers like the Ohio and Mississippi Rivers, and we discussed how land use affects water quality. The final week ended at the ocean, where students learned we all live downstream from someone else. Learn more about our journey. 
Due to meeting with the students virtually, we created videos of the local waterways and discussed areas the students were familiar with to help keep them engaged. While it was not the same as connecting with the students in person, we formed a relationship with the students during the summer. We
heard where they like to explore nature and what activities they like to do. Listening to the students and using their interests in future lessons also increased engagement. Including breaks where the students competed in an online game or shared their experiences in local waterways or parks helped them to explore the topic.
We look forward to our planned virtual sessions this spring, and we are even more excited for the possibility of getting to meet at the local stream in person. We plan to focus on Mill Run water monitoring using the Salt Watch program. Students will become more familiar with their local watershed and its water quality. We realize these are unusual times, but screen time cannot replace the value of in-person connections. We know that with even a short time together at our local waterway, we can show the students how they can safely explore and make countless discoveries by connecting them with their watershed.