North American Environmental Atlas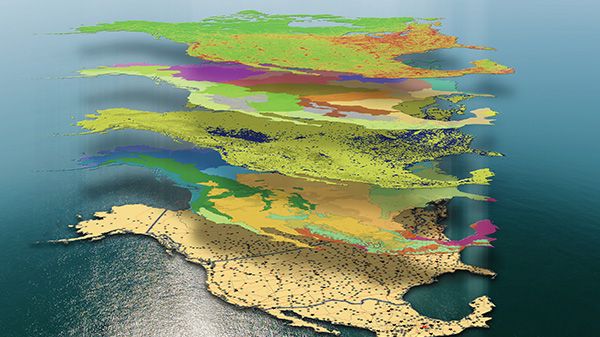 English
The North American Environmental Atlas is a unique tool to analyze and raise awareness of our shared environment and ecosystems across the continent, to demonstrate their value, and to help us see what needs to be done to protect them. The Atlas combines and harmonizes geospatial data from Canada, Mexico, and the United States to allow for a continental and regional perspective on environmental issues that cross boundaries. Thematic map layers allow the visualization of various environmental aspects, such as terrestrial and marine ecological regions, climate zones, as well as protected areas across the three countries. By comparing these map layers, we can better understand and quantify critical trends and interrelationships at the North American level.
---
Español
El Atlas ambiental de América del Norte nos ofrece una herramienta única para analizar y entender nuestro ambiente y los ecosistemas del subcontinente, demostrar su importancia y ayudar a comprender lo qué hay que hacer para su protección. El Atlas combina datos geoespaciales armonizados de Canadá, Estados Unidos y México para ofrecer una perspectiva subcontinental y regional de algunos aspectos ambientales que trascienden nuestras fronteras políticas. Las docenas de capas cartográficas que integran el Atlas son únicas al armonizar información geográfica a través de las fronteras políticas de América del Norte. La comparación de estas capas cartográficas nos permite entender y cuantificar con mayor precisión las tendencias e interrelaciones críticas a escala subcontinental.
---
Français
L'Atlas environnemental de l'Amérique du Nord est un outil unique qui nous permet d'analyser notre environnement et nos écosystèmes communs sur l'ensemble du continent, de nous y sensibiliser, d'en démontrer la valeur et de déceler ce qu'il faut faire pour les protéger. L'Atlas combine des données géospatiales harmonisées du Canada, des États-Unis et du Mexique qui brossent un tableau régional et continental des questions environnementales transfrontalières. Les dizaines de couches cartographiques de l'Atlas sont uniques en leur genre, car elles harmonisent les informations géographiques par-delà les frontières politiques nord-américaines. La comparaison de ces couches cartographiques nous permet de mieux comprendre et quantifier les tendances et les interconnexions d'intérêt majeur à l'échelle de l'Amérique du Nord.