Mapping the Landscape of K–12 Climate Change Education Policy in the United States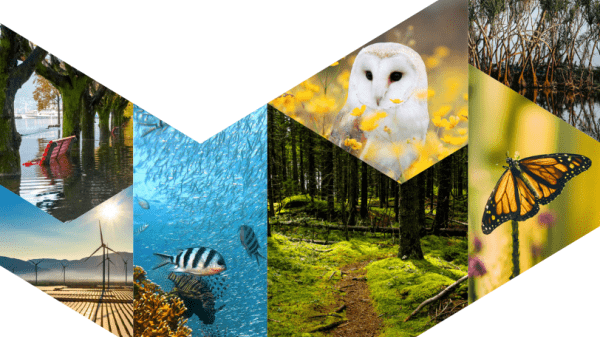 NAAEE and the Monitoring and Evaluating Climate Communication and Education (MECCE) Project are excited to release the findings of a comprehensive analysis of K–12 Climate Change Education Policy in the United States. Please read the Executive Summary and full report, attached to this post. Here's a view of what is inside:
Executive Summary
This study explored the status of climate change education policy in the United States by analyzing the extent and type of climate change inclusion in 802 publicly available education policies from state departments or boards of education. Using a whole institution approach, researchers collected and reviewed policies from each of four domains: (1) institutional governance (e.g., strategic plans), (2) teaching and learning (e.g., state standards), (3) facilities and operations (e.g., operations plans), and (4) community partnerships (e.g., community engagement plans). This study also evaluated how holistic the approach to climate change education was by looking at inclusion of three learning dimensions: 1) cognitive (e.g., teaching the science of the greenhouse effect), (2) socio-emotional (e.g., addressing social and emotional issues such as grief and denial), and (3) action-oriented (e.g., focusing on collective justice-oriented climate action).
The study builds on prior climate change education research and underscores the importance of including climate change in education policy in all areas of institutional activity to further climate change action through education.
In short, the key findings led to the five recommendations:
1. Increase the quality and quantity of climate change content across all education policies, including addressing all institutional domains and holistic learning dimensions and in all subjects. 
2. Update and increase the number of statewide environmental literacy plans.
3. Include a stronger focus on climate justice, climate action, and Indigenous knowledge in all education policies.
4. Include a focus on both climate change mitigation and adaptation in all education policies.
5. Provide policy support, such as funding, professional development, and staffing to help advance enactment of climate change education policy. 
For more information about this report, please contact Sarah Bodor, Director of Policy & Affiliate Relations at NAAEE, at sarah@naaee.org. 
Watch the recording of the eeINSPIRE webinar about the findings and recommendations for this report, from Aug 30, 2022. Watch >
Significant contributions to the writing of this report were made by Kristen Hargis and Marcia McKenzie. Intellectual and design contributions were made by NAAEE project leads Judy Braus and Sarah Bodor, and by Nicola Chopin from SEPN/MECCE. Additional contributions to data collection and analysis were made by Research Assistants Kristen Hargis, Yanyu Li, and Darren Rabinowitz. The project team also extends gratitude to the advisory committee members Joe Heimlich, Joseph Henderson, Christina Kwauk, Shaun Martin, Martha Monroe, Deb Morrison, Frank Niepold, and Billy Spitzer who provided initial guidance on the proposed data collection and analysis methods used in this study. We are also grateful for the comments and suggestions from reviewers Dr. Martha Monroe and Lawrence Paska on an earlier version of this document.