Book: Braiding Sweetgrass for Young Adults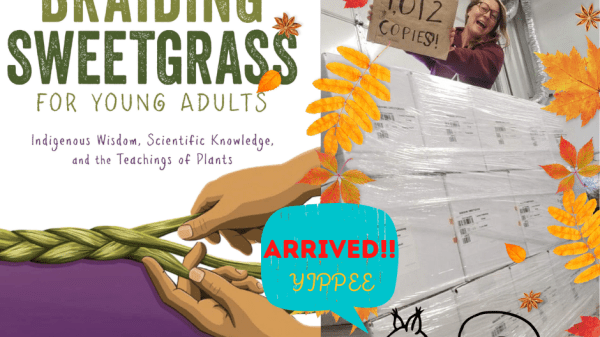 The very first copies of the newly released Braiding Sweetgrass for Young Adults have arrived! These are available for order through our social enterprise, The Outdoor Learning Store (a Charitable Non-profit), with 100% of proceeds going back to non-profit outdoor learning programs! Find this and other Indigenous Learning Resources on our website.
We HIGHLY recommend this beautiful book for everyone ages 12 & above. This adapted version brings to life the best of the original with amazing artwork, fantastic flow, and powerful provocations to support deeper learning about local land and Indigenous culture. EVERY middle school, high school, library, youth group, and family with teenage children should have copies available.
"A book to grow up with and grow into." Every high school English, Social Studies, Biology and History Department should have copies of this book available. Not to mention every Library, Youth Group and Family with teenage children.
Drawing from her experiences as an Indigenous scientist, botanist Robin Wall Kimmerer demonstrates how all living things—from strawberries and witch hazel to water lilies and lichen—provide us with gifts and lessons every day in her best-selling book Braiding Sweetgrass: Indigenous Wisdom, Scientific Knowledge, and the Teachings of Plants. This new version will provide the essence of this book in a way that better engages young adults. With informative sidebars, reflection questions, and art from illustrator Nicole Neidhardt (Navajo), Braiding Sweetgrass for Young Adults will help provide educators bring Indigenous wisdom, scientific knowledge, and the lessons of plant life to a new generation.