EECOM 21 Research Symposium on Environmental & Sustainability Education in Teacher Education is Still Open for Registration!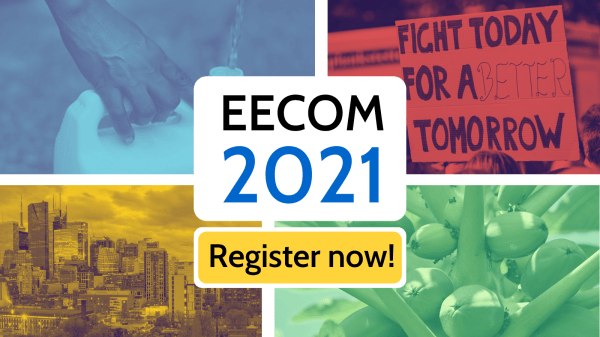 Calling all Environmental and Sustainability Education researchers, faculty, students and scholars! Don't miss the EECOM Research Symposium happening April 21st as part of the EECOM 21 Conference!
Registration is open for EECOM 2021,  For the first time ever, EECOM 2021 will be taking place exclusively online, running April 21-24, 2021 and welcomes educators, grades 11, 12, and post-secondary students, classrooms, community organizations, and parents. The best part? There's no travel required, so you can learn and build your network while decreasing your environmental impact.
The conference kicks off with a Research Symposium featuring some of the leading researchers and educators from Canada and around the world on April 21 and an opportunity to provide input on identifying and prioritizing a national Environmental & Sustainability Education in Teacher Education (ESE-TE) research agenda. Come learn and share with over 25 presenters focused on embedding all things ESE into teacher education!
Following the Research Symposium will the general EECOM conference - Canada's largest annual national environmental education conference! Join us for three days of dynamic sessions and workshops focusing on four themes: City as Classroom, Indigenous Education, EcoJustice Education, and Water Education. We'll also be bringing you three inspiring keynote addresses: a powerful and free public Earth Day kick-off by youth activist Larissa Crawford; a special co-presentation from Indigenous artists Christi Belcourt and Isaac Murdoch; and a deep-dive into climate justice with Julian Agyeman. In addition to over 100 presenters across 70+ sessions, attendees will experience lively and unique opportunities to safely socialize with other passionate members of the EECOM community through a variety of "Nuit Verte" social events. From a vegan cooking class to a guided organic beer-tasting, this is one conference you won't want to miss!
Learn more, view the schedule and speakers, and register your spot now for both the Research Symposium and the general Conference at ecoschools.ca/eecom.