2019 MobilizeGreen Annual Conference and Diversity Career Fair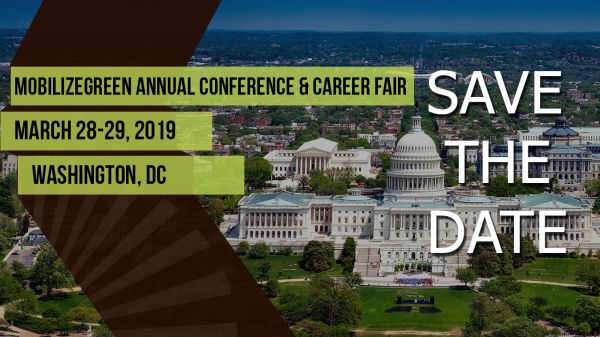 MobilizeGreen is proud to announce its 2019 MobilizeGreen Annual Conference and Diversity Career Fair that will take place on March 28-29, 2019, in Washington, D.C.  The theme of this year's event is:  Empowering Young Adults for Social Action:  Mobilizing for Environmental Change.
BENEFITS
Impact Networking & Professional Development
Paid Internships & Career Opportunities
Do Work That Matters!
Travel & housing scholarships available. Limited slots so apply early!
THE EVENT
Conference: The conference on March 28, 2019 will include environmental and natural resource management agencies, non-profit organizations, and private companies. By attending the conference, you will sharpen your professional development skills, jump start your career search, and have opportunities to network directly with managers from these organizations.  
Career Fair: Do work that matters!  The career fair on March 29, 2019 is a unique opportunity for students and recent graduates seeking paid internship opportunities and hands-on experience.  Work on green-related projects and policies while connecting with environmental organizations and potential green employers. 
Who:      Diverse students and recent graduates, green employers, and thought leaders
What:     MobilizeGreen Annual Conference and Diversity Career Fair
When:    March 28-29, 2019
Where:  Washington, DC