Train-the-Trainer: Environmental Action Civics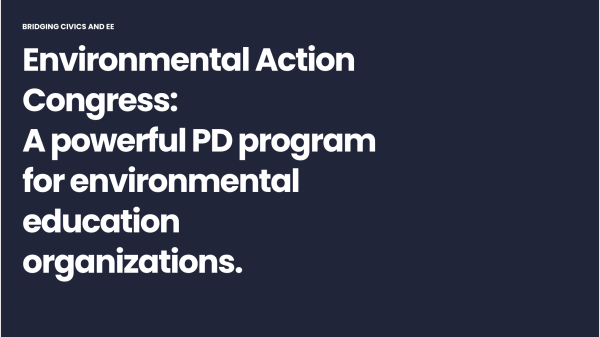 For environmental education organizations: learn how to implement and facilitate environmental action civics to promote student-led civic action in various educational settings.
You'll build your capacity to support educators in integrating student action projects into existing programming. Get ready for all the best practices to cultivate youth-adult partnerships while maintaining the ability to meet learning goals.
You'll learn our 6-step process & tools for Environmental Action Civics that can be used in any community/program & can support meaningful educator professional development.
Learn what's working and what's not from peers and mentors and develop your own plan of action.
You are committed and so are we. You'll get a full year of unlimited coaching from the Earth Force team, ongoing support sessions, a fall showcase with peers, plus financial support & materials to integrate this work into your programming.
Includes two dates:
The Why and How: August 16, 2022
11:00am-1:00pm MT (1:00pm-3:00pm ET)
Educator Training Workshop: August 18, 2022
10:00am-2:00pm MT (12:00pm-4:00pm ET)