The Powerful Connection Between Education, Climate, and Justice: Town Hall Webinar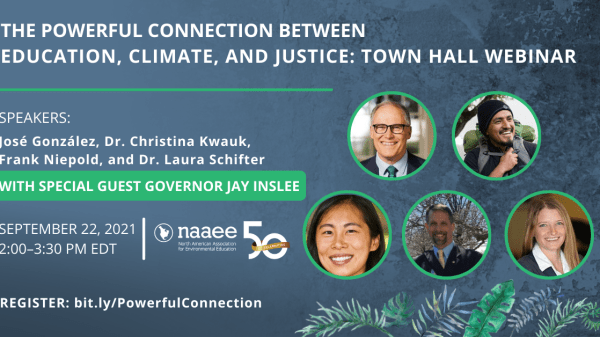 Watch this hopeful and engaging Town Hall Webinar with Governor Jay Inslee from Washington State and a number of other leading educators focused on climate literacy, climate justice, and education.
Wednesday, September 22, 2:00–3:30 PM EDT – RECORDED
We all know the urgency of the issues, but we often forget the power of education in addressing climate change, achieving social justice, and developing skills for 21st century solutions—from systems thinking to collaborating for success. Governor Inslee kicks off the webinar by speaking about the innovative work he's doing in his state to advance climate literacy and climate justice. He is followed by a panel of education specialists including Christina Kwauk, a global educator from the Brookings Institute; Frank Niepold, Senior Climate Education Coordinator at NOAA and Action for Climate Empowerment National Focal Point for the United States; and Laura Schifter, a lecturer on education with the Harvard Graduate School of Education and a Senior Fellow with the Aspen Institute leading the K12 Climate Action initiative. 
José González moderates the webinar with an introduction and close from Judy Braus, the Executive Director of NAAEE, and Sarah Bodor, the Director of Policy and Affiliate Relations at NAAEE. This webinar is part of NAAEE's 50th Anniversary to advance environmental literacy and civic engagement with a goal of using the power of education to find solutions to our most pressing issues.