Plastics: Impacts and Action - Civic Ecology Lab online course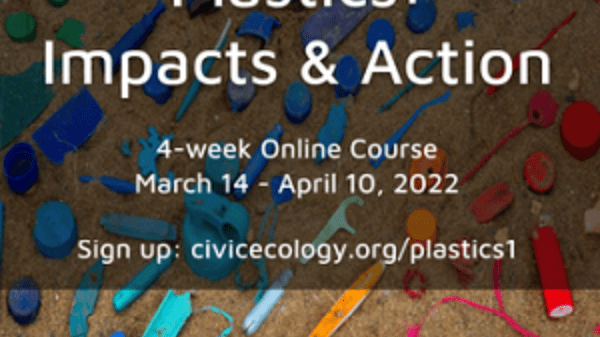 We invite you to join our next 4-week online course—Plastics: Impacts and Action—starting March 14! And share the link with your friends, family, colleagues, and students--anyone who is interested in helping the environment. 
This course explores the multiple ways we interact with plastics, and uses plastics to investigate the complex dynamic systems shaping our planet and our lives. During the course we will apply critical thinking and systems thinking to learn about everything from the plastic lifecycle, to plastic's social and environmental impacts, to NGO efforts and government plastic policies. You will apply your knowledge by designing and implementing a locally-relevant action targeting plastic pollution. Such projects may include working for policy changes at schools or workplaces; creating plastic sculptures; reuse initiatives; and so much more! This is a unique opportunity to be part of an online learning community taking action against plastic pollution.
The course is largely asynchronous--meaning you can access the short lectures, readings, and other materials when it's convenient for you. We also hold weekly webinars (recorded for those who can't make it) as well as optional weekly office hours.      
Instructors: The primary course instructor is Bethany Jorgensen, a PhD candidate in the Civic Ecology Lab in the Department of Natural Resources and the Environment at Cornell University. She studies marine plastic and how impacted communities take action against plastic pollution. Through her work, she gathers stories of people, places, and plastic on the islands of Lanzarote (Canary Islands, Spain) and Menorca (Balearic Islands, Spain) to understand how we can learn to live with limits and recognize when enough is enough. As co-coordinator for the international research network Marine Sciences For Society, she has co-written and co-edited several publications and serves as a core member of the Organizing Team and Scientific Committee for the biennial MICRO international conference series on plastic pollution from macro to nano. She also co-coordinates the working group for Zero Plastic in Biosphere Reserves. Ms Jorgensen looks forward to meeting the participants in the Plastics: Impacts and Action course, learning about your plastic experiences, and discussing ways to create a more equitable planet without plastic pollution.
Ms Jorgensen will be aided in teaching by our Civic Ecology Lab veteran online instructors: Cornell professor Dr Marianne Krasny and Cornell research associate Dr Yue Li.
In this course you will:
Learn about systems thinking and apply systems thinking to describe the plastic lifecycle, plastics' global circulation as goods and waste, and the environmental and health impacts of plastics.
Discuss the feasibility and effectiveness of plastic governance approaches.
Develop and implement a locally-relevant action to address plastic pollution.
Critically reflect on the experience and outcomes of your plastic pollution intervention and write a 1-2 page report describing your action and reflections.
Participate actively in a global online community of plastic-concerned citizens.
Participants who complete the course are awarded a Cornell University certificate (PDF). 
Cost is $60 (strongly encouraged). We accept participants who are only able to pay less or who are not able to pay.  
Questions: Email us at CivicEcology@cornell.edu, Use "Plastics" in the subject line.