Ocean Education to Action: Advancing Ocean Literacy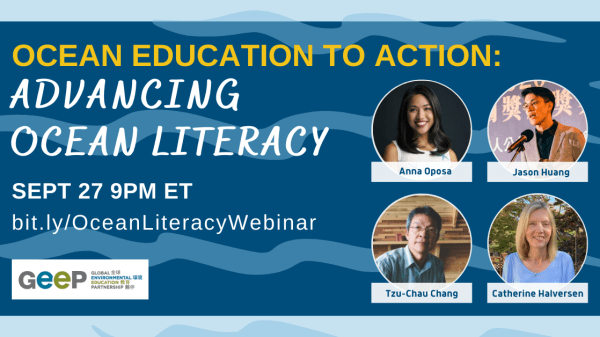 Oceans cover more than 70% of the planet's surface and support all life on earth by providing us with oxygen, rain, food, medicines, temperature regulation, inspiration, and so much more. Unfortunately, we know that our oceans are in trouble—from climate change to plastic pollution and overfishing. Join us as we explore the critical role that education can play in advancing environmental literacy and motivating individuals and communities to get engaged in protecting marine environments. Join educators working in the Philippines, Taiwan, and the U.S. as they share ideas for creating an ocean-literate world.
Below are links to the resources highlighted during the webinar: 
From Anna Oposa:
From Catherine Halversen:
National Marine Educators Association Ocean Literacy Homepage
Download the Ocean Literacy Guide 
Download the Ocean Literacy Handbook (to order a hardcopy of the Guide or Handbook, email  education@noaa.gov)
Access the Ocean Literacy Scope and Sequence (screen reader accessible version available here)
From Jason Huang:
Rethink's Guidebook of Marine Debris
Speakers
Catherine Halversen is an emerita Senior Program Director in the Leaning and Teaching Group at the Lawrence Hall of Science, University of California Berkeley where she also served as Co-Director of Marine, Activities, Resources & Education (MARE) and Director of Communicating Ocean and Climate Science. Her work focuses on developing, teaching, and disseminating in-person and online professional learning programs, instructional materials, and courses for STEM university/college faculty, K through 12, and informal educators (e.g. Reflecting on Practice for STEM Educators), and ocean and earth science undergraduates and graduate students. She has been involved in the Ocean Literacy Campaign since its inception, serves as a Vice Chair of the National Marine Educators Association (NMEA) Ocean Literacy Committee, and served as co-editor of the recently published "A Handbook for Increasing Ocean Literacy: Tools for Educators and Ocean Literacy Advocates."
Jason Huang is co-founder & CEO of the non-profit RE-THINK. He has been organizing beach cleanup activities in Taiwan since 2013 and hopes that participants will rethink their lifestyle choices. It was during a beach cleanup when Jason was inspired to start RE-THINK. After finding many different types of marine debris, Jason decided to take the trash back to his studio where he artistically photographed all of the items found and eventually launched Taiwan's very first illustrated encyclopedia on marine debris. He hopes to create an entertaining and comprehensive environmental education marine teaching material for youth.
Anna Oposa is the Executive Director and "Chief Mermaid" of Save Philippine Seas, a movement to protect the Philippines' coastal and marine resources by mobilizing seatizen-led initiatives for collective action and behavior change. She graduated with a bachelor of arts degree in English Studies from the University of the Philippines-Diliman (2011) and earned a master of science degree in Conservation Science from Imperial College London through the Chevening Scholarship (2014-2015). She was a Global Fellow for Marine Conservation at Duke University for the summer term of 2017 and was selected as an NAAEE 30 under 30 awardee in 2018. Anna has pioneered a wide range of campaigns and projects in shark conservation, environmental education, youth empowerment, and waste management. Outside SPS, she has served as a consultant for the Asian Development Bank, Oceana Philippines, and Climate Change Commission.
Moderator: Tzu-Chau (TC) Chang is a professor at National Taiwan Normal University's Graduate Institute of Environmental Education. His research focuses on the infusion of Environmental Education into the national curriculum framework, and the implementation and impact of Taiwan Environmental Education Act. He also serves as the director of the Chinese Society of Environmental Education and works with the government on developing environmental education teaching materials and promoting Education for Sustainable Development. Professor Chang participated in GEEP meetings in 2015, 2016, and 2018.
He received his PhD in Science Education from Cornell University and served as the executive secretary of the Environmental Protection Division of the Ministry of Education of Taiwan to coordinate national environmental education programs from 2008-2012. He participated in GEEP meetings in 2015, 2016, and 2018.