eeINSPIRE Webinar: Birds for All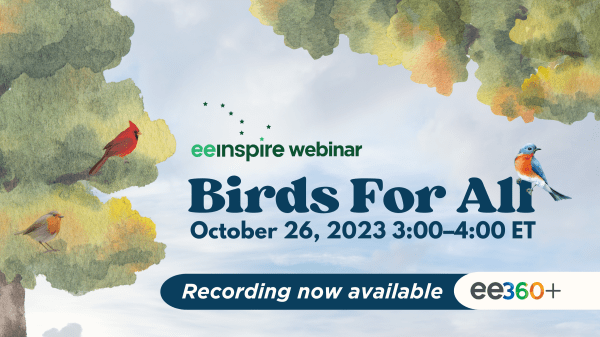 This webinar will help educators harness student interests in nature, habitats, and inclusivity using Birds! Explore how to begin environmental investigations using birds to hone the practices of observation, discovery, and reflection. Join the American Bird Conservancy (ABC), the North American Association for Environmental Education (NAAEE), and Project Learning Tree (PLT) to discover hands-on resources that use birds to create fun, inclusive, and authentic learning experiences for everyone! No prior birding experience required. 
Quick links from the webinar: 
Are you interested in keeping up with the latest news, spotlights, and more on environmental education? Subscribe to the NAAEE biweekly newsletter: https://naaee.org/news/naaee-newsletters
Sign up for Project Learning Tree's newsletter, The Branch, to get more practical teaching tips, recommendations for children's books, lesson plans and other adaptations to PLT materials created by teachers and proven to work with students in the classroom and outdoors: https://www.plt.org/signup
Speakers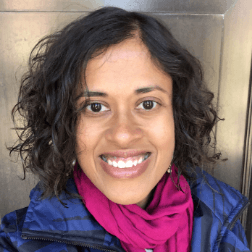 Naamal De Silva leads work on "Together for Birds" at American Bird Conservancy (ABC), advocating for the wellbeing of birds and people. She periodically teaches environmental justice at George Washington University and previously worked on globally threatened species and Key Biodiversity Areas at Conservation International. Naamal was born in Sri Lanka, grew up in Washington, DC, and cares deeply about community, wild beings and places, history, and cities. 
Naamal also manages ABC's Conservation and Justice Fellowships, and two individuals from the 2022-2023 cohort are delighted to join this conversation! Learn more about Claudia Santiago and Noah Gomes, including their context-based approaches to simultaneously supporting the needs of people and birds.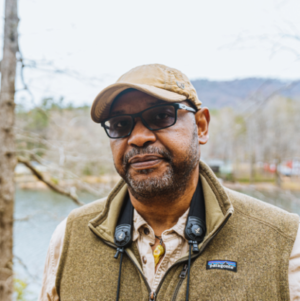 J. Drew Lanham is an author, poet, public speaker, and scientist from Edgefield and Aiken, South Carolina. He is an Alumni Distinguished Professor and Master Teacher of Wildlife Ecology at Clemson University, whose work addresses the confluence of race, place, and nature. A conservation and cultural ornithologist, he has mentored nearly fifty graduate students, published extensively in the scientific literature, and taught courses in conservation biology, forest ecology, wildlife policy, ornithology, and nature writing. Drew is an eco-social advocate and progressive rural southerner intent on making a difference for his homeplace. He accomplishes this mission by practicing robust science, while writing and speaking artfully towards recognition, reckoning, and reconciliation of all the region has wrought and brought to the lives of its people—both bitter and sweet.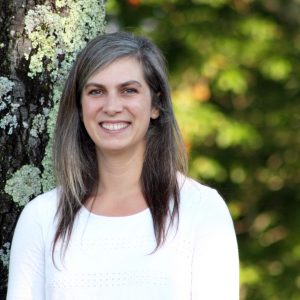 Jaclyn Stallard advises on the development and modification of all curriculum resources with Project Learning Tree (PLT). Her work paves the way for new innovative and strategic education resources within the PLT program PreK–12 suite. Her work matters because it is the foundation to a forest-literate future, and it creates opportunities for on-the-ground experiences in getting both youth and adults outdoors to learn. With nearly 20 years of curriculum development experience, Jaclyn's work has received esteemed awards such as the Kirkus Star, Academics' Choice, Teachers' Choice, and Independent Publisher Book Awards. Jaclyn is a daughter, wife, mother of two, and lifelong learner who loves to go hiking and create art whatever her travels take her.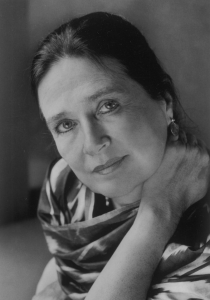 Sidney Wade is a poet and translator and Professor Emerita who taught at the University of Florida's MFA@FLA creative writing program for 21 years. She has published 8 volumes of poetry, the latest of which is "Deep Gossip: New and Selected Poems" (Johns Hopkins University Press 2020). She lives in Gainesville, FL and Rangeley ME.


Kathy Abusow is President and CEO of SFI Inc., a sustainability leader that stands for future forests. She has held this role since 2007, when Sustainable Forestry Initiative® became a fully independent, non-profit organization. Since joining SFI, Kathy has greatly expanded SFI's network to include the forest sector, brand owners, conservation groups, resource professionals, landowners, educators, local communities, Indigenous peoples, governments, and universities. 


Judy Braus brings to her role as NAAEE Executive Director a wealth of experience in the environmental education profession, with a focus on conservation education, diversity and inclusion, and using the power of education to help create healthier communities that empower local communities, stakeholders, and individuals to help restore and protect the environment. She comes to NAAEE from the National Audubon Society, where she was the Senior Vice President of Education and Centers, overseeing an extensive nationwide network of nature centers and educators. Prior to that, she led the education programs at World Wildlife Fund (WWF), the U.S. Peace Corps, and the National Wildlife Federation (NWF).


Mike Parr, President of the American Bird Conservancy (ABC), joined the organization in 1996 after graduating from the University of East Anglia, UK, and working for BirdLife International. He has coauthored several books including: Parrots - A Guide to the Parrots of the World, Important Bird Areas in the United States, and The American Bird Conservancy Guide to Bird Conservation, along with numerous articles and papers. He is Chair of the Alliance for Zero Extinction and a member of the Board of Directors of the Sustainable Forestry Initiative. 
Partners:
American Bird Conservancy (ABC)
For more than 25 years, the American Bird Conservancy (ABC) has been dedicated to conserving wild birds and their habitats throughout the Americas. With an emphasis on achieving results and working in partnership, ABC takes on the greatest problems facing birds today, innovating and building on rapid advancements in science to halt extinctions, protect habitats, eliminate threats, and build capacity for bird conservation. Learn more about ABC here.
Project Learning Tree (PLT)
PLT is committed to advancing environmental education, forest literacy, and green career pathways, using trees and forests as windows on the world. Our award-winning resources offer a lifetime of learning from early childhood through adulthood, and our wide and diverse network provides professional development for educators and opportunities for young adults to explore forests and green careers. Together, we are growing future forest and conservation leaders. PLT is an initiative of the Sustainable Forestry Initiative®, a non-profit charitable organization with the mission of advancing sustainability through forest-focused collaboration. Learn more about PLT here.
This webinar is brought to you by ee360+ and eeINSPIRE.
ee360+: Building a Stronger and More Inclusive Movement Through Collective Impact
An ambitious multi-year initiative, the ee360+ Leadership and Training Collaborative connects, trains, and promotes innovative leaders dedicated to using the power of education to create a more just and sustainable future for everyone, everywhere. Led by NAAEE, ee360+ is made possible through funding and support from U.S. EPA and twenty-seven partner organizations representing universities and nonprofits across the country, and five federal agencies. Through this partnership, ee360+ brings together more than five decades of expertise to grow, strengthen, and diversify the environmental education field. Visit https://naaee.org/programs/ee360 to learn more.

eeINSPIRE: Sparking Innovation in Environmental Education
We are pleased to continue eeINSPIRE, NAAEE's webinar series presented in partnership with the US Forest Service. This series is designed to bring new ideas and thinking to USFS conservation educators, but is open to all who want to sign up! 

Upcoming eeINSPIRE Webinars
Future topics will include: increasing civic engagement through education and service-learning, becoming a natural and effective storyteller, citizen science in education, building a diverse and inclusive field, and more. 
We look forward to seeing you online, and stay tuned for updates on upcoming webinars in the series!