Earth Authors Global Book Launch (Virtual)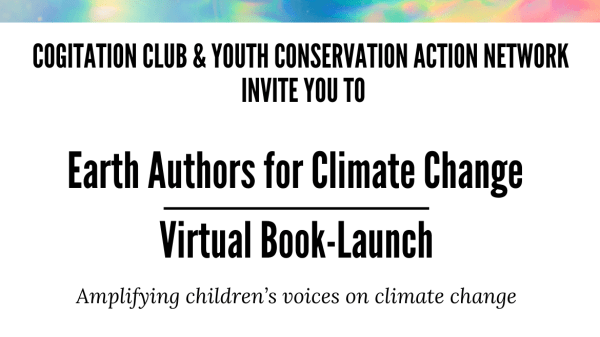 The Earth Authors for Climate Change storybooks are officially launching and you are invited to attend a virtual conversation with the young authors, aged 8–13, as they present their books to the world. On November 18, NAAEE's Carrie Albright will speak with each of the fifteen Earth Author writers, learning about their inspiration, the process, and the goal of each story. Read the digital copies of these stories of the real-life impact of climate change as seen through the eyes of today's children.
*Virtual Book Launch via Zoom*
Date: 18th November 2023
Time: 10:30 AM–12:00 PM ET
Zoom link: Visit The Cogitation Club program page 
*Book Exhibition in Chennai*
Date: 19th November 2023
Time: 10:00 AM–12:00 PM IST
Location: Scholars Academy, Injambakkam, Chennai.
To join either event, visit The Cogitation Club program page. The program is a part of the CEE-Change Fellowship from the North American Association for Environmental Education (NAAEE).  The CEE-Change Fellowship is supported through ee360+, a cooperative agreement between NAAEE and the U.S. Environmental Protection Agency, with additional funding from Cedar Tree Foundation. Learn more about the CEE-Change Fellowship