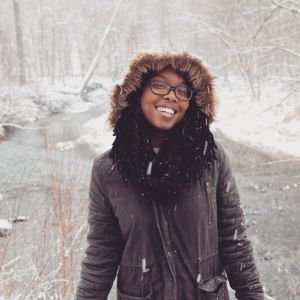 Maya Alexander
Potomac River Program Manager/Educator
Chesapeake Bay Foundation
Laurel, Maryland,
Interests
Environmental Quality, Citizen Science, Civic Engagement, Climate Change, Conservation, Culture and Art, Justice, Equity, Diversity, and Inclusion, Environmental Literacy, PreK-12, Health, Marine, Biodiversity, Nonformal Education, Policy/Advocacy, Urban EE, Water
Maya Alexander has always had a connection to nature. Whether she was spending countless hours outdoors or studying the wonders of Earth science, she has always been captivated with the natural world.
She attended Salisbury University and graduated in May 2016 with a B.A. in Psychology. Maya puts her understanding of psychology into practice when teaching the public about sustainable behaviors that can improve the health of our planet; which she believes starts with education. Over the past five years, Maya has worked to provide meaningful outdoor experiences to students throughout the Chesapeake Bay watershed. She continues this work as the current Potomac River Program Manager/Educator with the Chesapeake Bay Foundation. Maya is passionate about bringing diversity and inclusivity to the environmental field as she believes everyone deserves the right to a clean environment. Through her work and related experience, she hopes to encourage people from various backgrounds and ages to build relationships with the outdoors. She also hopes to help fellow young professionals advance their careers in the environmental field.
When she is not busy educating students, you can find Maya taking pleasure in nature photography, adventuring in the mountains, and spending time with family and friends.