Washington Middle School Science Students Partner with Local Volunteers to Restore Ecosystems for the UN Decade on Restoration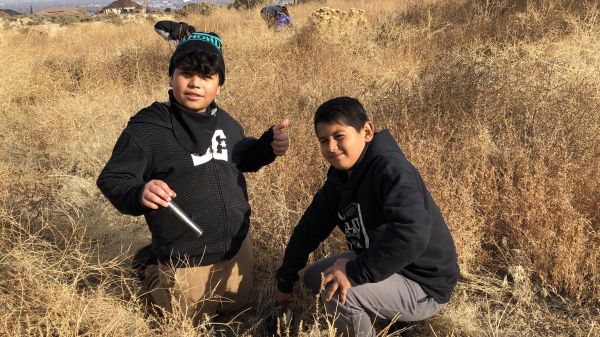 Take a minute to transport yourself to a middle school science classroom in Washington state: it's fall 2021, the beginning of the school year and the United Nations Decade on Restoration, and it's the first day of a new unit. 
The teacher has just launched the unit with a short video about biodiversity and the challenges we face to protect the incredible variety and abundance of life on Earth. David Attenborough's voice is urgent as images of birds, lions, butterflies, and other creatures intermix with images of environmental destruction and loss. 
The teacher shares a few facts: according to the International Union for Conservation of Nature (IUCN), 22% of mammals, 30% of amphibians, 12% of birds, 28% of reptiles, 37% of freshwater fish, 70% of plants, and 35% of invertebrates are under threat of extinction in these students' lifetimes.
These are painful facts to share with the next generation. But now the problem has been defined and it's time to ask the question that will drive learning for the next few weeks of science class: how can we, as student restoration ecologists, restore land in our community to increase biodiversity?
Over the next few weeks, students take on the role of restoration ecologists to study a healthy ecosystem and apply their understanding of how a healthy ecosystem functions to design a restoration plan for degraded land in their own community. These students are a part of a pilot program called Youth Ecology Education through Restoration (YEER), an innovative new educational program through the Washington Native Plant Society. This fall, stewards, teachers, and students will bring this pilot program to life.
On the second day of the unit, students go on a full-day field trip to a healthy ecosystem in their community to find out what an ecosystem is and meet some of the plants, animals, and decomposers who live there. Back in the classroom they use photos of organisms in the ecosystem to build a virtual model of the reference ecosystem. Classroom investigations and activities in food chains, food webs, photosynthesis, and cellular respiration, and the effects of resource availability on populations of organisms help students add to an increasingly complex reference ecosystem model.
Students figure out that native plant communities are the foundation of the ecosystem: native plants support a complex food web. The more organisms and connections between organisms in the food web, the more biodiverse an ecosystem is and the healthier it is. They apply their understanding of what makes the reference ecosystem healthy to design an Ecosystem Restoration Proposal for the restoration site, with the goal of increasing biodiversity.
This is where it gets really real. Students present their proposals to a Washington Native Plant Society Steward (WNPS). A steward is a community volunteer who has been trained during the WNPS Stewardship Program in native plant communities and how to use this knowledge to protect and restore Washington's ecosystems. There are thousands of WNPS members, organized by chapter, across the state and a growing number of stewards who, it turns out, are eager to partner with schools to restore land. 
The YEER Coordinators (one based in Western and one in Eastern Washington) match these stewards with adventurous teachers in their community who want to do ecosystem restoration with their students, but need an expert partner and a high-quality curriculum. With the expert guidance of the stewards, students implement their restoration project over the remainder of the school year. 
The restoration projects in the pilot year range from schoolyard lawn transformations to riparian restoration to enhance salmon habitat, to restoration of shrub steppe habitat that's been destroyed by wildfires or noxious weeds in Eastern Washington. YEER is building partnerships with parks, land trusts, and school districts to have students restore land that these entities manage.
Fifteen teachers at eight schools across the state are partnering with WNPS to pilot YEER. Each teacher has been matched with between one and five stewards in their community. About 1600 students will restore land next school year as a part of YEER. 
Teachers are already making the project their own and thinking of ways to adapt the curriculum and restoration project to their unique locality and their student's cultural context. One school in Eastern Washington is planning to make an overarching, interdisciplinary project, building off the provided science curriculum. Students will use math to figure out the area and the plant species concentration of the reference ecosystem, in history they will look at ecosystems and restoration through the Washington State history lens, and in art they will create interpretive signs for the plants that will go in the ground at their restoration site.
YEER is in its infancy and we are figuring out a lot as we go. We have a lot more to learn as we build the foundation that supports our vision of stewards, teachers, and students restoring ecosystems together across Washington as a part of their science curriculum. Because of the generous donation of a WNPS member, we are able to get this program off the ground for the pilot year, but we will need long-term funding to continue scaling up during the UN Decade on Restoration and beyond.
Let the UN Decade on Restoration begin in science classrooms across Washington state.
You can reach the author of this article and YEER Coordinator for Western Washington at: YEERWest@wnps.org