Using Virtual Reality to Educate Students About the Ocean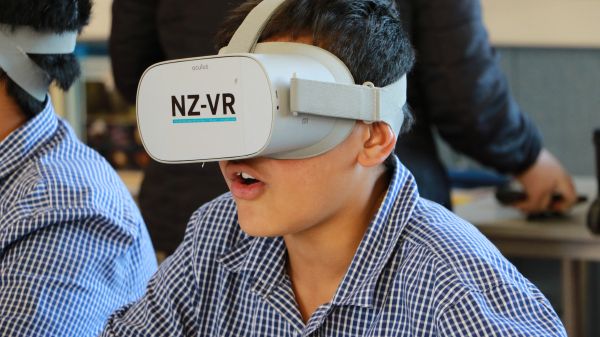 The ocean and marine environment face many challenges, including overfishing, pollution, temperature increases, the introduction of invasive species, and more. While oceans play a crucial role in human and ecosystem health, many people are unaware of the ocean's challenges and how these challenges are largely human-caused. People who live in urban areas or who are impacted by poverty or other social issues, as examples, are most likely to experience a lack of connection to the ocean and marine environments—or have little or no experience with both. When people lack opportunities for hands-on connection to the ocean (also called ocean blindness), they are less likely to be interested in protecting or learning about the ocean.
The BLAKE New Zealand (NZ) Virtual Reality (VR) program was launched in 2019 by BLAKE to provide such an experience and connect young people with the marine environment. Partnering with New Zealand Geographic, the program offers virtual reality headsets and 360-degree underwater videos (recorded in the Hauraki Gulf—a 4,000 km2 marine park around Auckland and on the northeastern coast of the North Island). BLAKE NZ-VR is a classroom experience that benefits not only students, but educators as well.
By using virtual reality technology, the experience engages students and teaches them about the marine environment. It makes it possible to connect students, especially those who have had little to no experience with the ocean before, with underwater life. The BLAKE NZ-VR project aims to encourage students to take action to improve ocean health and solve the challenges that the ocean faces. At the same time, it provides unforgettable experiences and memories like "swimming" with dolphins, snappers, sharks, and whales, and through kelp forests. BLAKE hopes that these authentic experiences will incline students to take care of the ocean and marine life. 
The project comes with a well-prepared approach. In addition to in-classroom experience with virtual reality technologies, BLAKE educators visit schools and provide engaging sessions. They connect with students by using visuals via PowerPoint, and they lead discussions about protecting the oceans. The virtual reality experience includes five to ten minutes of footage of a healthy marine ecosystem versus the one that has been degraded by human activity. Afterward, students can share their experiences, discuss what they have heard and seen, and, more importantly, suggest actions that can be taken to protect the marine environment and reduce negative impacts on the ocean. Through the BLAKE program, the students can learn about the following Ocean Literacy Principles:
#1: The Earth has one big ocean with many features.
#5: The ocean supports a great diversity of life and ecosystems.
#6: The ocean and humans are inextricably interconnected.
On top of the classroom sessions, the project offers an e-newsletter, free registration, and suggestions for schools on how to prepare for each session. After each session, teachers receive a physical handout with online resources available for them to continue educating others about the marine environment and the oceans.
So far, the program has received very positive feedback. Some educators who registered and hosted the BLAKE NZ-VR session stated that the experience was incredible for both educators and students alike. They also noticed that students were highly engaged in follow-up discussions. In addition, they highlighted how important this project is for students from low socio-economic communities, as it provides marine and ocean experiences that the students would otherwise not have. Over 90% of teachers were satisfied with the NZ-VR experience and would recommend NZ-VR to a friend or a colleague. 
The BLAKE NZ-VR project has grown in interest to the point where BLAKE has exceeded its ability to deliver the experience to all interested schools and educators. However, the organization is sustainably extending its form, trying to reach more students by hiring more educators and expanding its operations to different parts of New Zealand. They also launched a version of NZ-VR specifically for Māori students (Indigenous New Zealanders), including their language and worldview. In addition, the organization plans to provide outdoor activities for students, such as snorkeling, surfing, and nature trails.
Read more about the BLAKE NZ-VR project in this GEEP Case Study.