Talking Trash with Teens!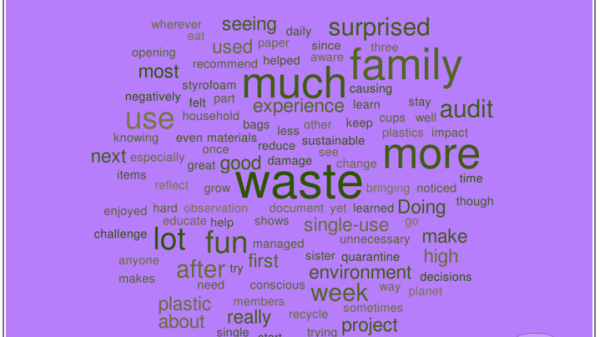 What are the reasons behind people not only changing their minds but also changing their actions? Behavior change has always intrigued me. Although I am not an expert on behavior change, I work with teenagers who often change their minds and their behaviors. Read on to learn about the value of "talking trash" with teens.
The most rewarding component of my job as a Youth Development Coordinator is working with students that are 14–18 years old in an after-school program environment. It's a great way to see behavior change over the short-term and long-term. There is never a typical day, and it definitely keeps me on my toes!
My favorite part of working as a Youth Development Coordinator with this age group is how much passion they show for different topics. The teens I have the pleasure of working with love this planet. They are like a more grown-up version of Russell from the Pixar movie Up. Russell's slogan says, "A wilderness explorer is a friend to all, be it plant or fish or tiny mole." That's them. They are always looking for ways to help others love our planet more and give people the tools to help others understand the need to conserve nature, locally and globally. The passion they carry is contagious. I know because I feel it.
Teens often get a bad reputation, which they don't live up to. Combining their energy, intrinsic value of the environment, and love for the city, we created a project based on waste problems in New Orleans. It came to fruition because of their love for their city.
A unique component of the project is New Orleans itself. It's a unique city in the United States and the world. When I think of New Orleans, I think of Mardi Gras beads, to-go cups, and glitter everywhere! Unfortunately, all of those things contain single-use plastics. The city is dripping in culture...and single-use plastics. Mardi Gras beads in the trees, styrofoam cups on the streets, and plastic straws washing down Bourbon Street storm are just a glimpse of the waste lining our streets. The ease of a throw-away lifestyle seems essential to being a New Orleanian and this wasteful lifestyle is the reason we created our teen trash talk.
Elbows Deep in Trash
We learned all about trash, where it goes, what types of recycling are accepted in New Orleans, and the impacts on our environment. This brought us to our in-home trash audit. Teen Trash Talk focused on studying trash at home, with the students teaching their families how to limit the wastestream to landfills. We created a method on how to count waste items, implemented a point value system (see Table 1), and focused on two sustainable initiatives per household.
We established a 7-day home audit of everything that was thrown away. The students sorted the waste and assigned the point value system. After the results were in for each household, each student picked what they would focus on to work with their family one thing to reduce their waste for the following week. Table 2 shows the process and how we decided if there was a change positively or negatively in their household.
Wasting Away
After the final tallies we reported, we shared thoughts about what worked and didn't work for our projects. Complicating factors included the COVID-19 pandemic and during peak hurricane season in New Orleans. The city was in the cone of uncertainty 10 times from June 1 to November 30. For those of you who haven't had the thrill of riding out a hurricane, it means lots of waste is created from single-use items.
I want to emphasize it's NOT a bad thing! We must be prepared for power outages and boil advisories, not to mention throwing out so many things that were in the fridge and freezer because there is no sustainable way to keep them cool during summer months, without power. Even with all these roadblocks the teens really took this project and worked as hard as they could to do trash talk due diligence. Nothing would stop them from collecting and interpreting the trash in their homes.
The Treasure of Trash
As this project ended and we reflected on the results and realized the results weren't the real goal of the project. The purpose was for the teens to create, and follow through with a project they were passionate about, and had control over while developing a sense of pride in their trash management. Through this project, they became more aware of the waste that they produce daily, becoming better stewards of the environment.
Every participant in this project produced more waste than originally thought. This shows that it takes a conscious effort to reduce the amount of waste we create. Even with the roadblocks during the performance of the waste audits, the overall goals were achieved successfully. In our trash talk meetings, we pinpointed details to change if we ever try this again. Feedback included focusing on one goal, instead of just total waste, such as honing in on composting, single-use plastics, or disposable plates. I do have on record that the majority of the teens said they would help wash dishes so they didn't use as much paper and plastic cutlery and plates. Their adults were over-the-moon excited!
Overall, this project fostered a more conscious effort by the co-collaborators and their households to reduce their waste impact. In the blog photo, you'll see the words the teens used when sharing their opinions on the project. I like seeing the words "fun" and "surprised". This suggests more than any other outcome, that we all learned and discovered, together.
The best part about this project is that the teens developed it, coordinated with each other, and with their families, and then interpreted the results. This can be done anywhere, in a classroom, at a zoo, or in another home with your own kiddos! This project helps with awareness but also gives the students ownership of their work.
Ownership is vital for our environmental stewards that will be our next generation of conservation leaders. I am a true believer in simple things that make a big impact, and I can truly say this project impacted our efforts in reducing waste.
References:
Audubon Nature Institute. 2019. Retrieved from-
https://audubonnatureinstitute.org/youth-volunteers
Hart, R.A. (1997). Children's Participation: The theory and practice of involving young citizens in community development and environmental care. In Earthscan Publications Ltd. Earthscan, pp. 40-45.
Thomashow, M. (2002). Bringing the biosphere home. Learning to perceive global environmental change. Massachusetts Institute of Technology Press, Cambridge, Massachusetts.