A Professional Journey in Cultivating Stewardship of Land and Water Using the 21st Century Community Learning Center Model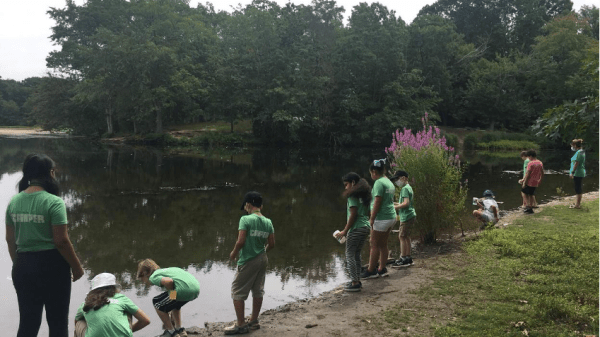 This post is written by Ayana Melvan, Senior Director of Strategic Partnerships, Mission Programs at Mystic Aquarium
The NOAA Office of Education and NAAEE partnered to increase environmental and science literacy among NOAA's partners and external networks. In this five-year partnership supported by the U.S. Department of Education, NOAA and NAAEE worked together to provide enriching after-school watershed-related STEM (science, technology, engineering, and mathematics) projects through NOAA-21st Century Community Learning Centers Watershed STEM Education Partnership grants. These grants supported programming for a total of 100 local 21st Century Community Learning Centers (21st CCLC) sites and their students. The 30 selected projects served 18 states, ranging from Alaska to Florida.
The 21st Century Community Learning Centers (21st CCLC) Act was introduced in 1994 to offer activities and provide services to youth and adults in communities throughout the United States during out-of-school time to increase social and emotional learning and promote positive youth development. The 21st CCLC model provides federal funding to schools and community-based organizations to provide high-quality afterschool and summer programming for our nation's most vulnerable youth.
Over a decade ago, I was introduced to a 21st CCLC school-based program in Norwich, Connecticut, where I served as a site coordinator. The program provided daily, free afterschool and summer programming for elementary-aged students, and a safe and nurturing space for the students to learn, grow, and connect with other kids and caring adults. We provided structure, sustenance in the form of a daily snack, homework help, and daily academic enrichment. As the site coordinator, I was tasked with training staff to implement high-quality educational enrichment programs. This was challenging because the traditional afterschool and summer camp model was more about recreation, such as basketball, than academic enrichment. Then we connected with Mystic Aquarium. They offered content and a fun, hands-on curriculum aligned perfectly with the 21st CCLC model, including social and emotional learning, youth development, and academic enrichment.
My 21st CCLC professional journey continued in Cranston, Rhode Island, where I served as a program director for multiple sites. And our partnership with Mystic Aquarium and their environmental education initiatives also continued. Our collaborative work expanded to include a greater emphasis on community engagement and environmental stewardship. Kids were excited to learn about and then protect their local aquatic resources. They recognized that they could have a voice in something as essential as the health of their drinking water. 
Ever since I was a little girl, I dreamed of becoming a marine biologist. Mystic Aquarium's programs brought me back to that passion and desire to protect marine life and be a steward of land and water. I saw more and more youth that look like me, a black woman, get excited as they gained access to opportunities from the Aquarium's programming. Now, I work for Mystic Aquarium and am pursuing deeply impactful and rewarding work with vulnerable communities to help foster environmental stewardship. The NOAA/NAAEE project, in partnership with the 21st CCLC site in Cranston, helps us do just that. By providing the necessary tools, youth can adopt their watershed, learn about salt ponds, and see all the Aquarium offers, including a diversity of possible careers. Through the project, youth are becoming empowered to care for our lands and waters to be around for future generations. I may not be a marine biologist, but I am fulfilling my lifelong dream of helping to conserve and protect our oceans and waterways.