The Magic of a Mini-Meaningful Watershed Education Experience (MWEE)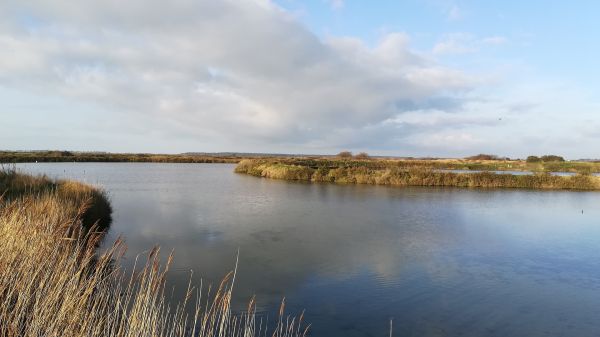 This post was written by Cindy Wilems, director of education at Galveston Bay Foundation.
What if you had a space where formal and nonformal educators could learn best practices, experience a variety of ecosystems, collaborate, and dream of future possibilities? That is just what happened at a recent professional development workshop that the Galveston Bay Foundation (GBF) hosted to round out the Watershed Leaders project as part of the NOAA 21st CCLC Watershed STEM Education Partnership Grant. Formal and nonformal educators across the Houston region came together at GBF's Trinity Bay Discovery Center in Beach City, Texas to learn more about local watersheds and how to implement NOAA's Meaningful Watershed Education Experience (MWEE) program.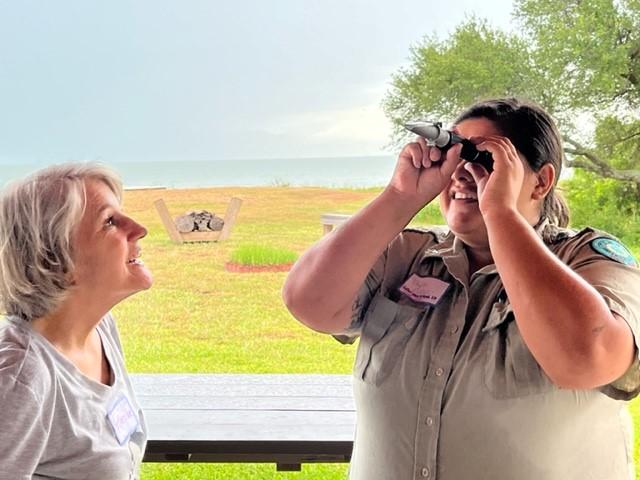 "I really enjoyed the hands-on activities! And it was awesome to network and get to know everyone." —Participant
Over coffee and pastries, educators began their day by building a topographic model of the Galveston Bay Watershed and discussing how human and environmental factors can affect the watershed. This lesson, designed by GBF, can be found in our Teacher Resources section. To learn how to implement an MWEE themselves, educators dove into the four essential elements, broke each one down, and discussed various perspectives of the teacher, students, and community partners. Once the elements of the MWEE were understood, educators practiced implementing a mini-MWEE from start to finish.
Essential Elements of a Meaningful Watershed Education Experience (MWEE)

Driving question
Field experiences
Analysis and conclusions
Action project
With a driving question of "how healthy is the ecosystem at the Trinity Bay Discovery Center?", educators donned water shoes and boots and entered the water. The goal? To identify aquatic species and collect water quality data. Some were novice seiners while others were quite experienced. The mixture of levels was magical, with experts assisting and providing support to the beginners, with the beginners giving new life to everyone present. People always talk about the spark seen in a child's eye when they touch a fish or hold a crab for the first time, but trust me, you can see the same spark in adults too! Everyone's faces lit up when we caught not one, but TWO juvenile flounders in one pass. Not even the rain could diminish the flame of interest and inspiration.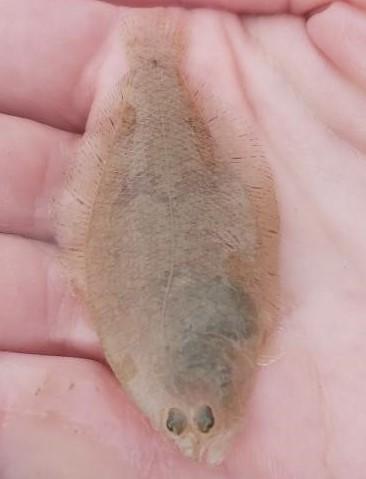 Despite the dark clouds and rain, seining was the highlight of the field experience portion of the mini-MWEE. Educators also collected and identified insects in the grasses along the edge of the property and discussed water quality results, including why certain parameters weren't as expected. Overall, they determined that the ecosystem is a healthy one, despite it being so close to human development. Back inside, small groups brainstormed action project ideas and shared them with the group.
"I loved the breakout group time to delve into the four different aspects of the MWEE. Really appreciated the conversation about larger grants being organized in this manner as well." —Participant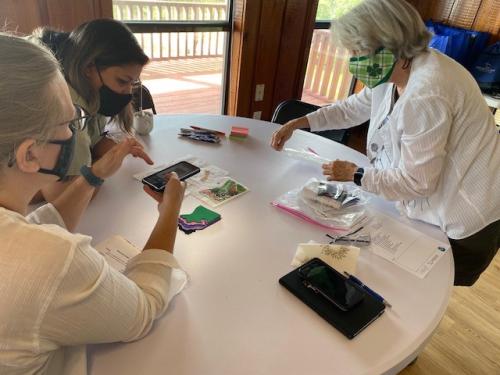 The act of completing a mini-MWEE allowed educators to experience it from a student's perspective. Reflection occurred throughout the process, with participants suggesting additional or alternative ways to collect data, posing follow-up questions, and networking with each other. We finished the day by discussing the roles of classroom teachers as well as the various roles that environmental education organizations can play in the MWEE experience. Emphasis was placed on allowing student voice throughout the entire process, working with community partners, thinking outside the box, consulting with teachers before creating a new program, and writing grants. All in all, every participant stated that they now plan to incorporate MWEEs into their classroom or organization this school year. It is exciting to think of how one workshop can have the potential to change so many lives—educators and students alike. All you need is a little bit of animal magic, some afternoon chocolate, space to collaborate, and a great program like the MWEE!
The NOAA Office of Education and NAAEE is partnering to increase environmental and science literacy among NOAA's partners and external networks. This five-year partnership is supported by the U.S. Department of Education, NOAA and NAAEE are working together to provide enriching after-school watershed-related STEM (science, technology, engineering, and mathematics) projects through NOAA-21st Century Community Learning Centers Watershed STEM Education Partnership grants. These grants will support programming for a total of 100 local 21st Century Community Learning Centers (21st CCLC) sites and their students. The 30 selected projects are serving 18 states, ranging from Alaska to Florida.